As investment in digital transformation continues, mobile apps have become a primary channel of communication with customers. The customers themselves are driving this change. In 2022, mobile eCommerce sales are expected to hit $437 billion, a 21.5 percent increase from 2021. With customers spending more time and money on mobile apps, it is important that companies continue to adapt and prioritize mobile in their customer feedback solution.
What is a customer feedback solution?
A customer feedback solution is the combination of feedback methods, software, and strategy that a company implements to collect, analyze, and act on customer feedback. If a company has a complete and well-developed feedback solution, they can improve customer experience, reduce churn, and create a better product. 
This post focuses on building a better mobile customer feedback solution—but it is important that your own solution takes other feedback channels into account. 
Not sure where to start? Below we identify five steps to create a holistic mobile customer feedback solution.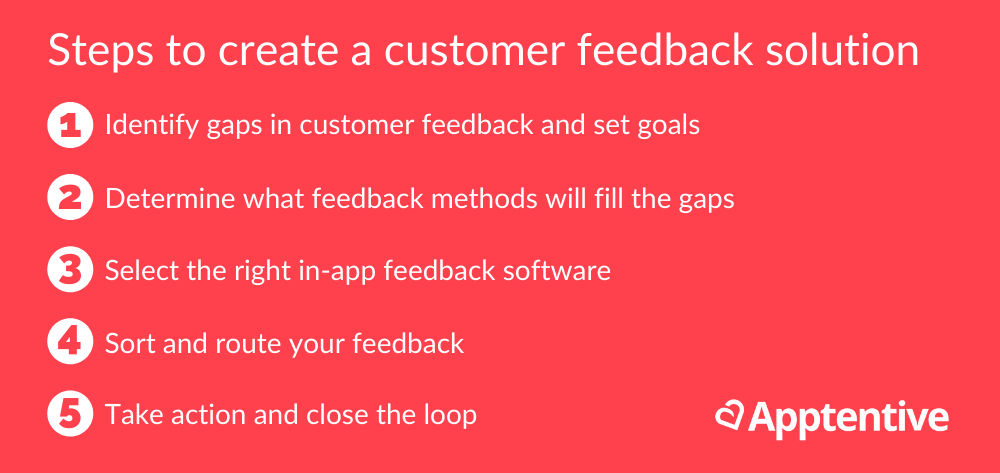 Step 1: Identify gaps in customer feedback and set goals
Before you commit to specific feedback methods and software, it is important to take the time to see what feedback you are missing and clarify what you are trying to accomplish. Keep in mind there will always be customer feedback that surprises you, but all feedback is a gift.
Determining your feedback goals at the start will help pinpoint critical areas and decisions that require customer input. Here are some examples of areas to focus on:
Step 2: Determine what feedback methods will fill the gaps
With in-app feedback, there are numerous methods of collecting feedback at your disposal. Take a look at a few examples of methods that you could utilize in your own customer feedback solution:
Product roadmap prioritization:

In-app surveys

help you quickly gather feedback on what is most important to your current customers and what they would like to see from your app in the future. This invaluable information takes some of the guesswork out of product decisions and allows you to make the most of your dev team's bandwidth. 

Customer sentiment: Alchemer Mobile (formerly Apptentive)'s

Fan Signals

Ⓡ

looks at all of the in-app interactions between you and your customers, and then segments your customers based on their expressed sentiment. You can use this data to track changes in customer emotion and hone in on why customer feelings changed, positively or negatively.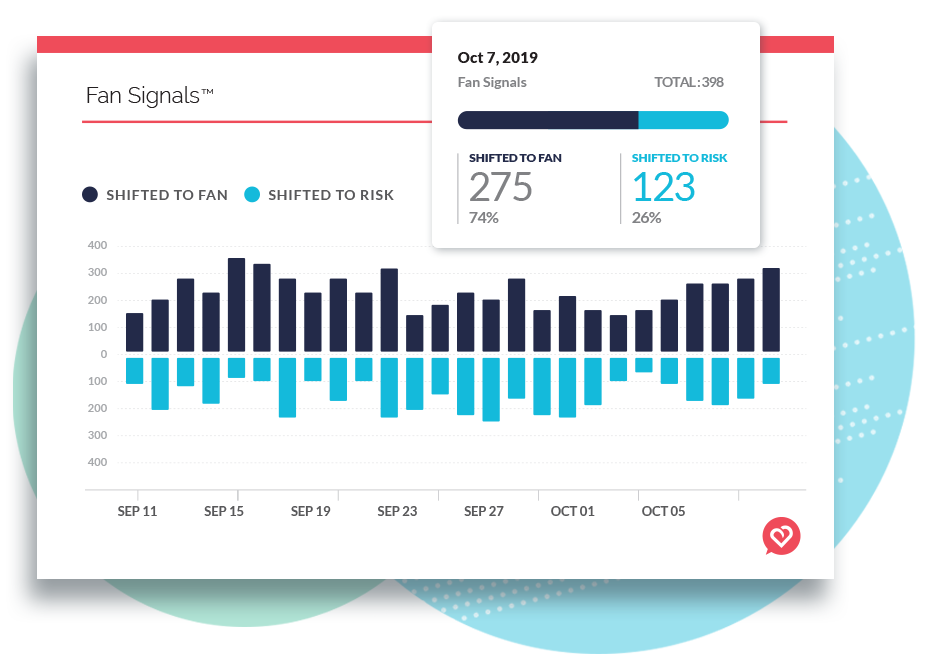 Customer experience: It is important that customers have a way to easily contact you when they are experiencing an issue or need a quick response.

Message centers

do exactly that by providing a two-way channel where customers can relay feedback, while giving you the opportunity to respond directly.

By quickly addressing customer feedback through a message center your customers are more likely to feel heard, and less likely to take their potentially negative experience to app stores.
Keep in mind, it is important to take your industry into consideration when determining feedback methods and strategy. Take a look at our 2022 Mobile Engagement Benchmark Report for data specific to  your industry.
Step 3: Select the right in-app feedback software
After you have an idea of what feedback methods make the most sense for your app and customers, you can look into what software options fit your specific mobile feedback solution. There are a lot of options out there, but thankfully, you are not in this alone! Every year, we publish a blog post on the top mobile in-app feedback tools. Here are a few of our favorites from the most recent edition:
mParticle

is a customer data platform that helps brands collect and connect clean customer data. Their secure and reliable platform integrates with Alchemer Mobile (formerly Apptentive) to create a powerful tool for collecting, analyzing, storing, and addressing mobile customer feedback.

Alchemer Mobile (formerly Apptentive)'s

bread-and-butter is helping brands create their own mobile customer feedback solution so we couldn't resist including ourselves on this list! We help companies

measure shifts in customer emotion and gather actionable feedback across their mobile customer journeys.

Apptimize

,  an Airship Company, helps brands rapidly iterate to make amazing user experiences across all their digital channels through A/B Testing and Feature Release Management with a mobile-first lens. Apptimize also integrates with Alchemer Mobile (formerly Apptentive), allowing you to follow up with your mobile customers after conducting research with Apptimize.
It is important to have the right set of feedback software so that you can give your customers a voice, and so you can take actionable steps based on their feedback.
Step 4: Sort and route your feedback
Having a plan in place to sort and route feedback is an essential part of any customer feedback solution. As you start collecting feedback, this crucial analysis step will pay dividends later when you decide what action to take. For sorting feedback, it is helpful to aggregate all of your mobile responses in one place, and use this information to augment customer profiles in your CRM or CDP. With the data in one place, you can look for trends and root causes behind your customer feedback. 
Everyone in your organization can benefit from learning more about the customers. Customer feedback impacts and informs marketers, product managers, customer success managers, and other teams. For example, marketers can use insights from customer feedback to determine content for ads, social media posts, and blogs. Likewise, customer success managers can use feedback to improve documentation and support for customers during challenging phases of the customer journey. Having a process in place to relay feedback to internal stakeholders is a key part of your customer feedback solution and allows you to get the most out of your customer feedback.
Step 5: Take action and close the loop
The final step in a complete customer feedback solution is likely where you will see your return on investment. Companies often spend time collecting feedback but neglect to act on the feedback that customers provide. Here are some examples of acting on customer feedback:
Product roadmap prioritization: Your team is trying to decide what new features to prioritize on your product roadmap. To make a data driven decision, you target your most loyal customers with an in-app survey asking them what features they are most interested in and why. You then act on this data by prioritizing product features that were popular in the survey. 

Customer sentiment: Your team implements

Fan Signals

Ⓡ

to build emotional data around your customers over time. After collecting enough data with the Love Dialog, you target your happy customers with a survey on what they like most and target your unhappy customers with a survey on what would improve their experience. Your team then uses this data to make customer experience improvements and decide what popular features to highlight in marketing materials. 

Customer experience: Your team adds a message center to your mobile app so that customers can provide quick feedback throughout their experience. You and your team monitor the message center and thank customers for their input, addressing any questions they may have. All the while, keeping track of common bug reports and feature requests that are coming through the message center. 
Make sure to close the loop with customers that provided feedback. For example, if feedback contained a product feature request or reported a bug, let the customer know that you hear them and are taking steps to address their feedback. Once their request has been implemented or the issue fixed, send a Note to the customer and inform them of the impact their feedback had.
Conclusion
A complete mobile customer feedback solution can improve just about every facet of your company. Your team will feel equipped with the customer information they need to create a better product and customer experience. Additionally, your customers will feel heard and are more likely to stay and continue providing feedback. 
If you would like to learn how Alchemer Mobile (formerly Apptentive) can help you build a mobile customer feedback solution, request a product demo today!