By Cameron Settle, Support Hero
There are two great features within Alchemer that are often overlooked. The first is "Bulk Editor" which allows you to see your entire survey and choose which pages or questions you would like to set as required. You can also enable or disable pages and questions.
The second feature is "Find & Replace" which allows you to search your entire survey for specific words and replace them.
Bulk Editor
The Bulk Editor can be accessed via the "Tools" tab of your survey.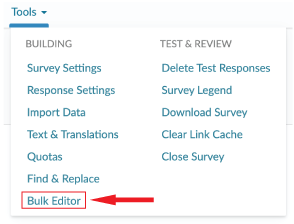 Once you're in the Bulk Editor, you will see a list of Pages and Questions from a dropdown menu of the available actions you can choose. When a property is changed, you will see the change listed under the "Properties" column.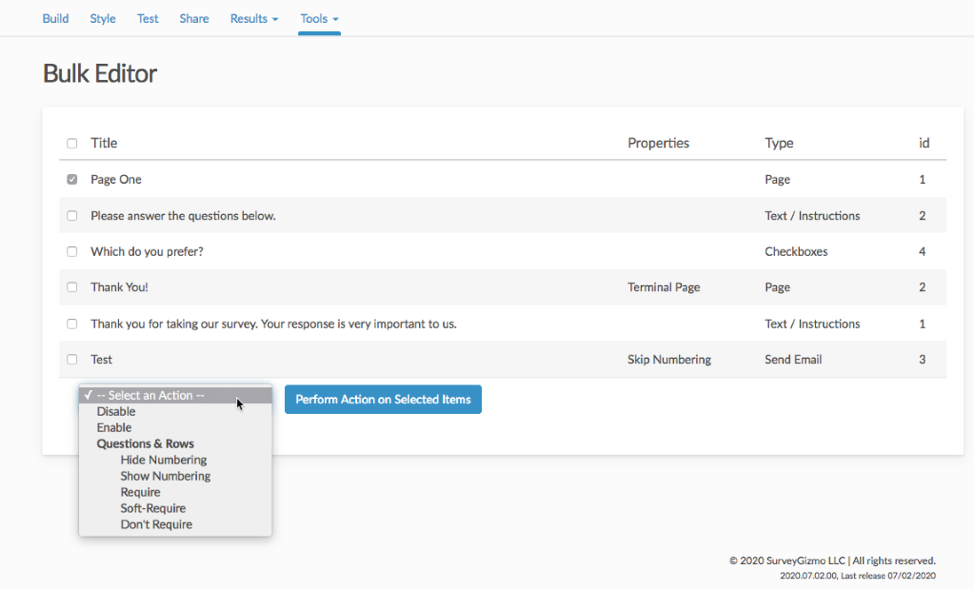 Available Actions
Disable – Disables selected element
Enable – Enables selected element
Questions & Rows
Hide Numbering – Hide numbering on selected question
Show Numbering – Display numbering on selected question
Require
Soft-Require
Don't Require
Find & Replace
The Find & Replace tool can be accessed via the "Tools" tab of your survey.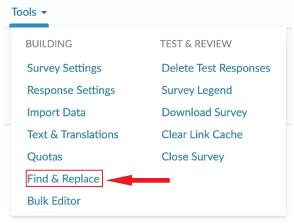 Examples:
Let's say, for example, you have a survey template that has another client's name in it, and you need to rebrand that survey to fit a new client's name. The Find & Replace tool with take much of the manual work out of rebuilding that survey.
Another scenario might be that you need to change the options within a certain question. You can use the Find & Replace tool for this as well.
Using The Tool:
To access this tool, click on the "Tools" tab and go to "Find & Replace". Here you will see a page where you can search for specific words. Please keep in mind that this search is case-sensitive. Searching for the word "test" versus "Test" will not return the same results.
Below you can see that we searched for the word "Test" and it will return all items within the survey that contain this word. What's great about this tool is that you can choose which options you want to replace with this new word. For example, you may want to use one word for the Question Title and use another word for the Question Option.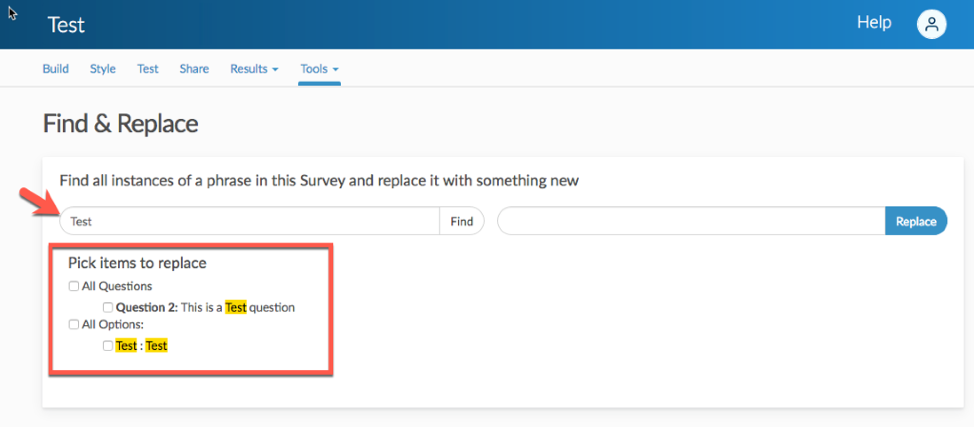 If you have any questions about the features mentioned in this article, you can always reach out to our support team via the steps below.
Access support documentation via the following page: Alchemer Help & Community 
If you have any questions about the features mentioned in this article, please reach out to our support team. How to contact support
Supporting Documentation: