Finance brands were generally spared by the marketplace shakeup of 2020. Consumers used Finance apps for the same standard purposes, although DAU spiked as people used mobile as their primary access point to banks and finance management.
In our 2021 Mobile App Engagement Benchmark Report, a study of 1,000 apps across a billion+ app installs, we take a close look at apps in the Finance category. In this report, Finance apps are separated into three subcategories: Fintech (credit score, mortgage, stocks and bonds, loan consolidation, etc.), Banking (banks and credit unions), and Insurance (auto, home, life, renters, pets, etc.). Consumers in each subcategory have vastly different motivations and usage patterns, which we see represented in the data.
Read on for data-supported research and benchmarks Finance apps should focus on in 2021 and beyond based on what was learned from a year like no other.
2021 Engagement Benchmarks for Finance Apps
Ratings and Reviews
Finance apps typically have fewer ratings and reviews based on their customer bases being smaller than larger markets. In 2020, the results were no different. The average Finance iOS app saw 28,891 app store ratings, received a 4.63 star rating, and had 104 app store reviews. Android apps saw many fewer ratings at 6,133, received an average 4.22 star rating, and had 960 app store reviews.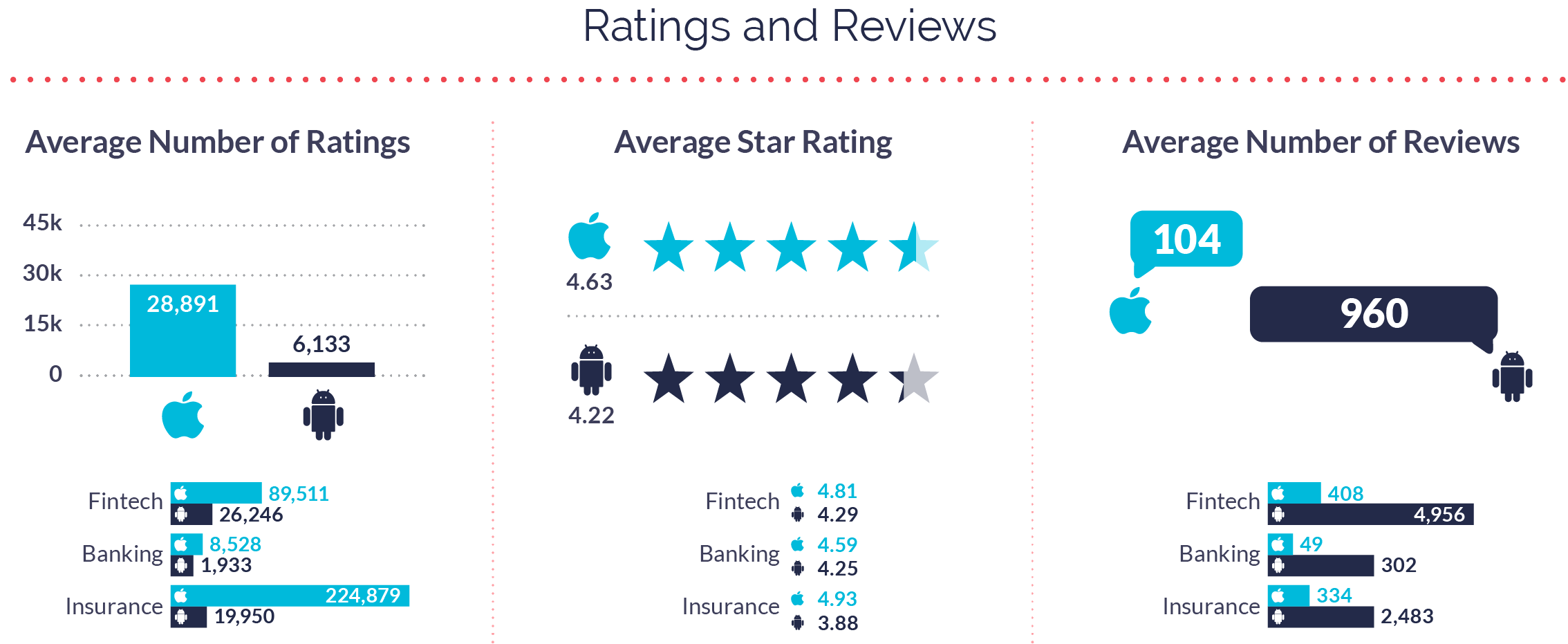 Similarly to previous years, iOS apps again enjoyed a higher overall rating; however, Android narrowed the gap between two in 2020, likely due to the new weighting system that Google employed in late 2019.

The big takeaway for Finance apps is while you can't mitigate every negative rating or comment, having a plan in place to directly receive negative feedback will help you improve your numbers.
Retention
Finance apps typically see high retention rates, especially in the Banking subcategory as consumers tend to only belong to one bank at a time and rarely switch. Banking apps saw 76% 90-day retention (48% macro average), with Insurance closely behind at 54%. Fintech fell slightly below the average at 37%.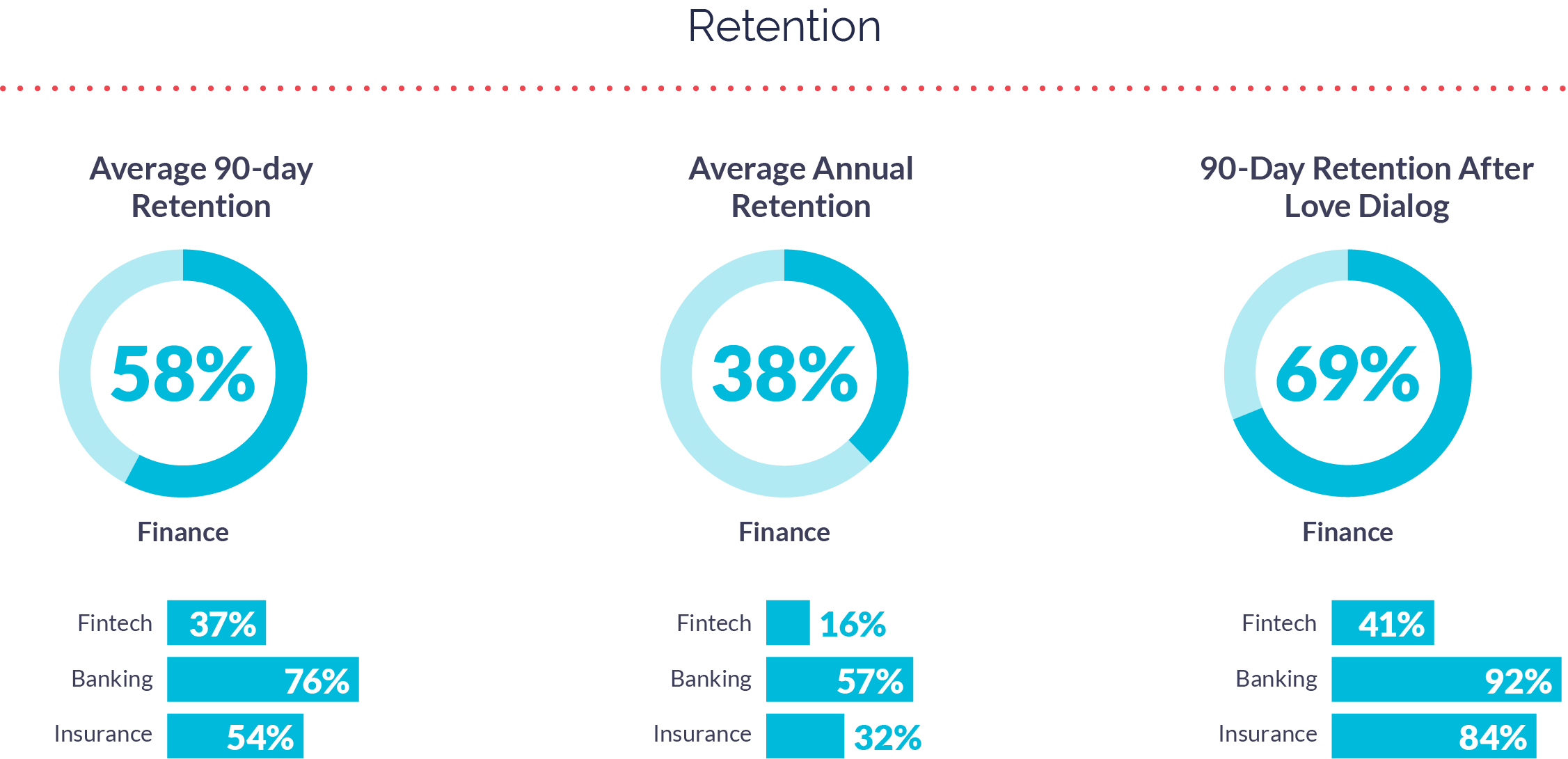 Looking at annual retention (macro average is 35%), Banking apps continued their retention stronghold at 57%, while Insurance (32%) and Fintech (16%) fell below the macro average.
Despite the differences between subcategories, the Love Dialog had a positive impact on all consumer groups. When engaged with a Love Dialog, 90-day retention grew to 41% in Fintech, 84% in Insurance, and a whopping 92% in Banking—said another way, almost all Banking consumers were retained for three months after they engaged with a Love Dialog.
Shifts in Consumer Emotion
Perhaps the most unique data point in Finance apps comes from shifting emotions. Finance apps saw double the number of consumers (-8% compared to the -4% macro average) shift their emotions between Fan and Risk. This is notable because despite the shift, retention numbers remain high.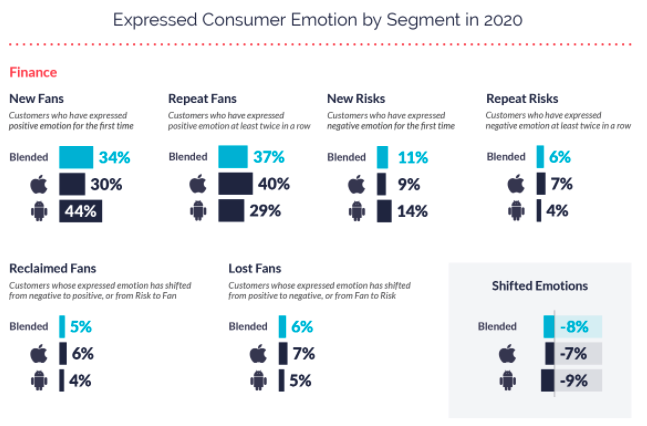 It's possible that Finance apps see lower churn than other categories due to the simple fact that it's hard for people to change banks and shift their financial planning tools. Regardless of the reason, understanding shifts in emotion and proactively engaging with consumers to get ahead of them is a big opportunity for Finance brands in 2021 and beyond.
Interaction and Response Rates
The pandemic had almost no noticeable impact on Finance apps in terms of monthly interaction and response rates. Mobile teams across Fintech, Banking, and Insurance continued a regular cadence of interacting with their customers throughout the year. Interaction rates also remained consistently high and fell right around the macro average of 94% in all three industries.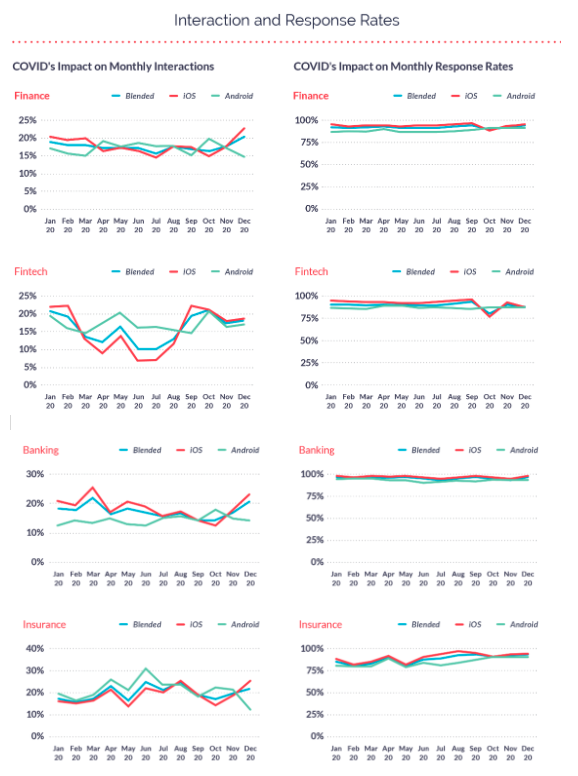 Surveys and Messages
Average survey response rates for Finance apps were 15%, comparable to the macro average of 16%. Fintech fell below this average at 9%, and Insurance was above it at 18%—both still much higher than the industry average of 1%.
However, not all surveys are delivered in the same way, and when consumers are given the choice to opt in or out, response rates improve. When surveys were introduced with an Alchemer Mobile (formerly Apptentive) Note, Finance apps saw their response rates rise to a whopping 76%.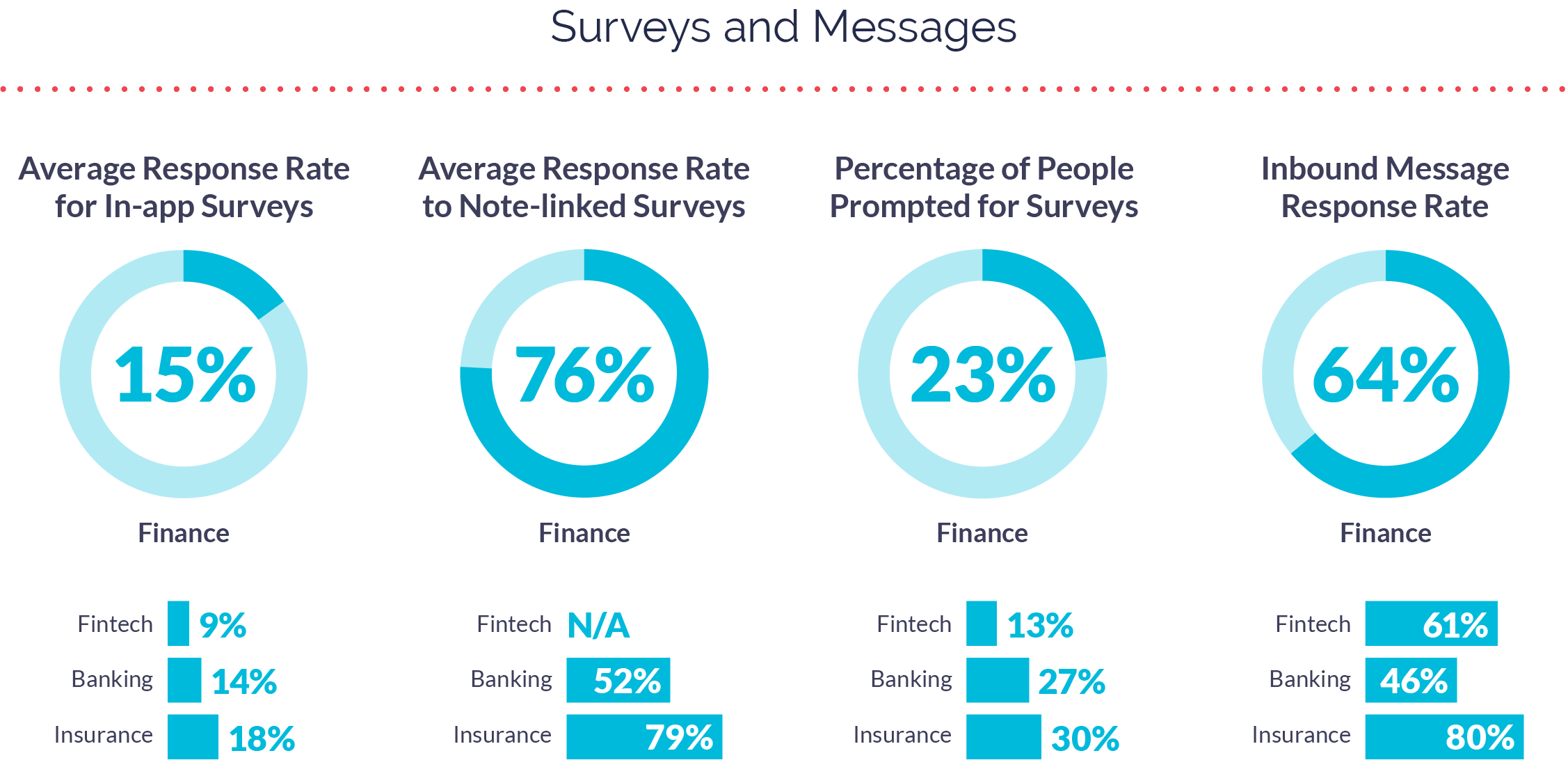 Popular Phrases
Shifting our focus to app store reviews, here are the 10 most popular phrases for both iOS and Android throughout 2020.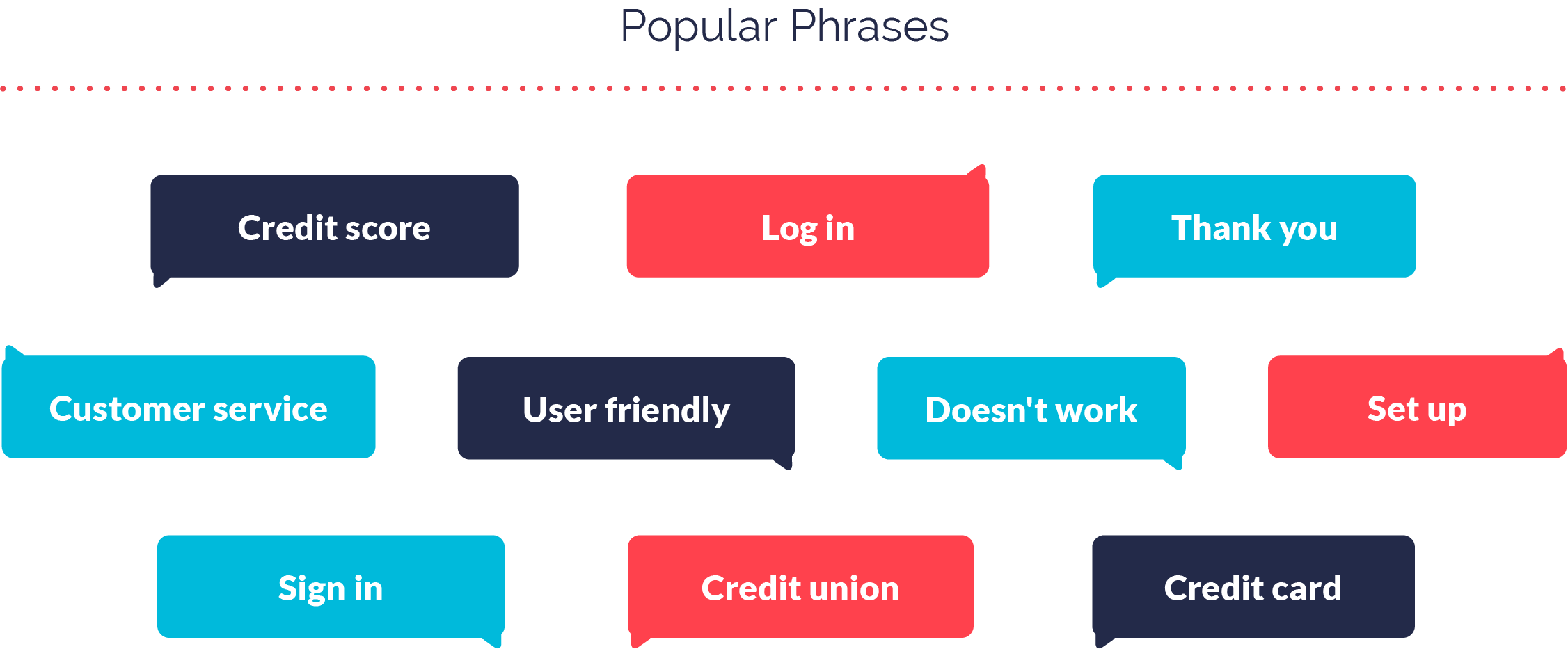 When we layer on sentiment distribution, you can see the difference between negative, neutral, and positive sentiment across app store reviews. The Finance app category is especially prone to negative sentiment through reviews due to the nature of their business; it's easy for consumers to leave frustrated feedback in the moment, and even easier for them to forget about positive experiences once they conclude.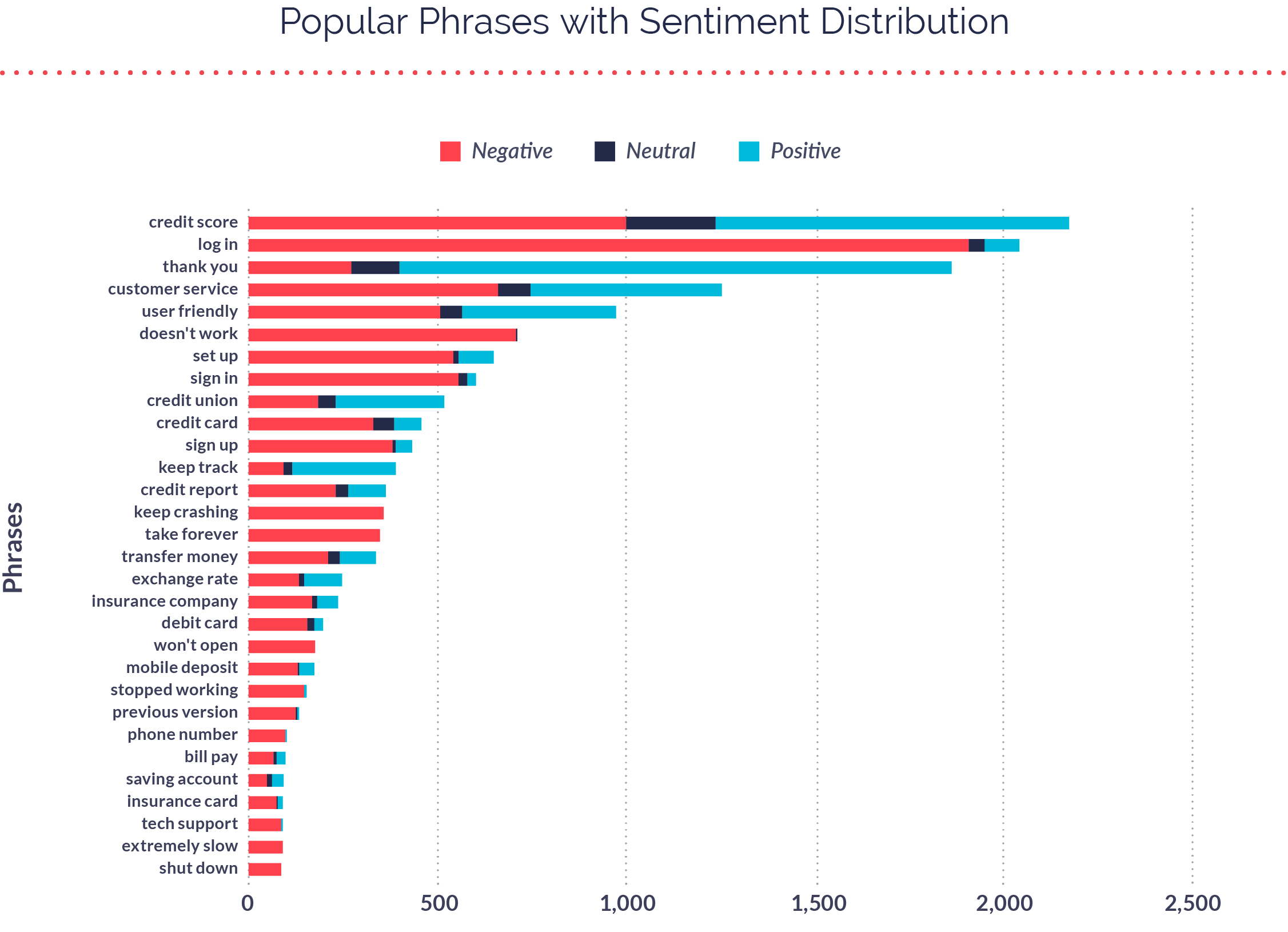 Working in Mobile Finance in 2021
While Finance apps survived 2020 relatively unscathed, the market is still fiercely competitive. As the data shows us, consumer loyalty in Finance is long lasting and the opportunity for mobile teams to gain market share has never been greater.
For more on how mobile teams in Finance can win back market share and improve feedback-based innovation, read our 2021 Mobile App Engagement Benchmark Report.