This is part 4 in a 5-part series. Please download our CX Predictions for 2022 ebook for our full report.
Robots are coming for your job.
And you will grow to love them.
Automation still provokes anxiety in some people though. PwC reports that 60% of people are worried about automation putting many jobs at risk.
The thinking goes that all types of roles are at risk — from CEOs to baseball umpires — and that the automatons will come for us all eventually.
In 2022, Alchemer predicts a shift in the way we view automation. We believe this coming year will herald a new relationship with automation.
Acceptance of automation should not come as a surprise. We know brands are becoming more transparent about data collection. We know that consumers care less about businesses collecting particular pieces of information, like email address. And we know we cannot stop the onset of better software, including Artificial Intelligence (AI).
Fear of Automation is Overstated
Robots might come for your job, but hopefully just the boring parts.
In the United States, 52% of respondents received automation training within the past year and 94% credit the training with an improved job performance. Almost all respondents claim that automation makes them better at their job.
But acceptance of automation doesn't end at training. When considering future careers, 63% of workers see automation skills as critical to their career growth. Working with robots might be good for business.
So, let's face it: We are cautiously optimistic about the future of technology. The same PwC study reveals that 64% of respondents say technology presents more opportunities than risks (only 9% disagree).
Forget the talk about robots "coming for our jobs." We welcome our new robot overlords.
How the Pandemic Sped Up Automation Acceptance
Many companies have adopted robotics, but largely to automate repetitive processes. Some are now levelling up to AI. Deloitte reports a marked increase in their annual global survey — 73% of executives said their organizations were already on a path to AI, a 15-point increase in just two years.
Perhaps more important is the number of companies reaching some level of AI maturity. The number of companies deploying AI at scale is still minimal (13%), but has doubled since 2019.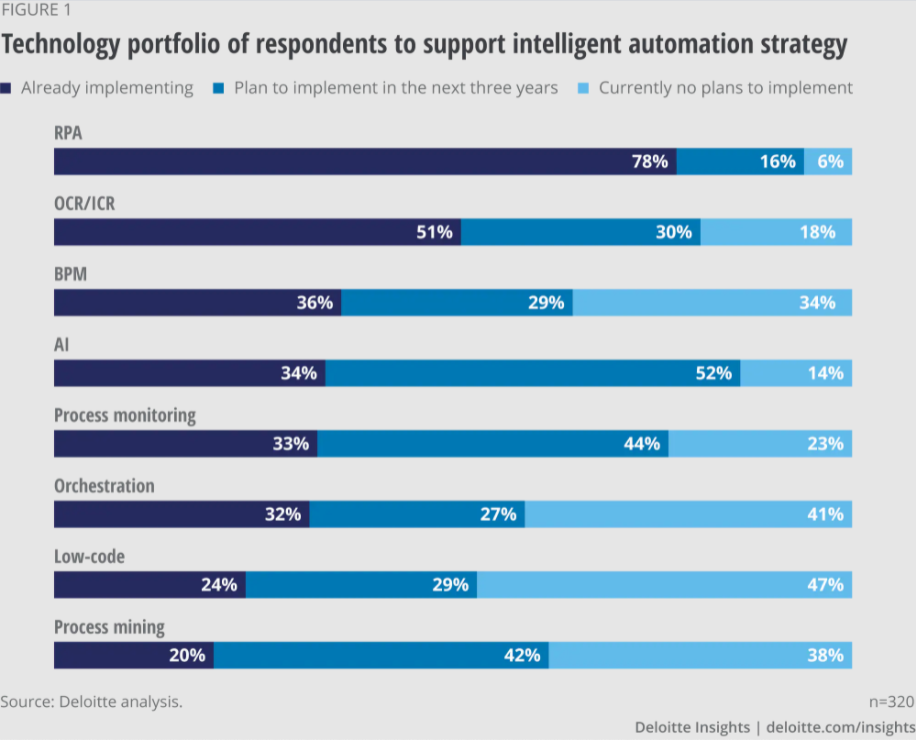 Although many of these plans were in place previously, most respondents told Deloitte that the pandemic had changed how their organization thought about how work was done. Increasing automation was almost a given "considering the widespread remote working and the configuration required to secure worksites."
Automation May Increase Human Potential
So, why are workers so bullish on automation these days? An early indicator could be exactly the type of work robots would take on — humans may be delighted that their repetitive, mundane work can be automated.
A second indicator appears to be a renewed focus on other skills. With the introduction of AI, executives are more likely to look at processes and roles, and to consider different modes of working. Many business leaders are incorporating training on uniquely human skills: 59 percent of AI practitioners reported that their organizations are focusing on "process skills, like active listening and critical thinking."
We may already be seeing this type of training pay off. People learned many new skills during the COVID pandemic. And not just how to bake sourdough bread. Four in five workers learned new skills from home during the pandemic (82%) and 72% report feeling more confident in their ability to do their job. While many experience The Great Recession or The Great Realignment, those of us reporting to work regularly are feeling better about it than in the recent past.
At Alchemer, we're seeing the benefits of automation. For instance, our Risk Assessment Solution provides IT and InfoSec teams with an automated process for conducting vendor and enterprise risk assessments. Our customer teams love using automation to identify and validate risks rather than doing it manually.
It's time to admit that we are okay working with robots. Humans, trained in communication and process, can better program and respond to our AI co-workers.
In 2022, we finally embrace automation.