Combine reports from multiple surveys into a single report
By Cherilyn Cornwell, Alchemer Product Manager, and Vanessa Bagnato, Alchemer Director of Product Marketing
Thanks to customer requests and your feedback, Alchemer Standard Reports now provides cross survey reporting capabilities so that you can combine reports from multiple surveys into a single report, allowing you to visualize questions from different reports together. By combining questions and reports from different surveys, you can view feedback across touch points, timeframes, and audience segments within a single report view. It allows you to filter and segment results across surveys for both Alchemer Survey and Alchemer Workflow, so you can see feedback results in context, no matter their survey source. This allows you to save time while you deliver better data to drive decisions.
Alchemer Survey has always made it easy to create customizable reports to analyze and share results. That is why the new cross survey capability is already integrated into your Standard Reports features, so you can easily add greater context to your reports by comparing results.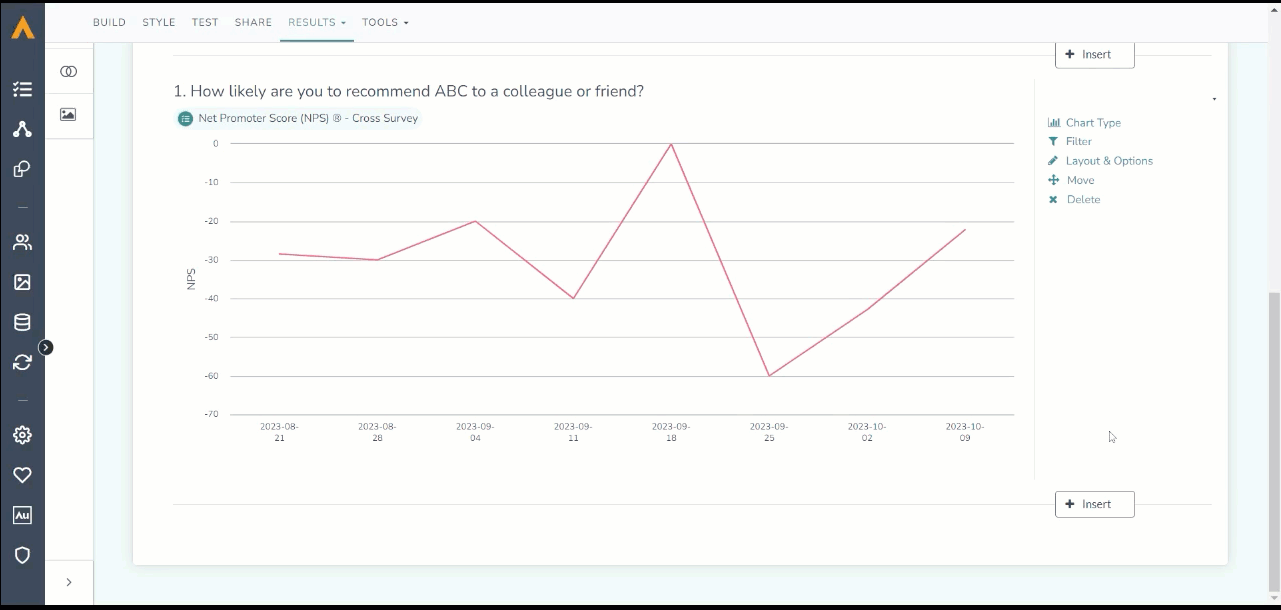 Compare Results Across Multiple Surveys Within a Single Report
The cross-survey reporting capability enables you to analyze and present a holistic view of your customer feedback across touch points by combining reports from multiple surveys into a single report view. By simply adding a new question and selecting the survey and questions to bring into the report, you can view any feedback in context to find new actionable insights across multiple customer touchpoints.
The cross-survey reporting feature gives you:
Insights across multiple customer feedback touchpoints
Seamless comparison of like data across multiple surveys or segments for side-by-side views
Deeper audience segmentation and filtering for targeting customers across multiple surveys
Ability to easily audit business processes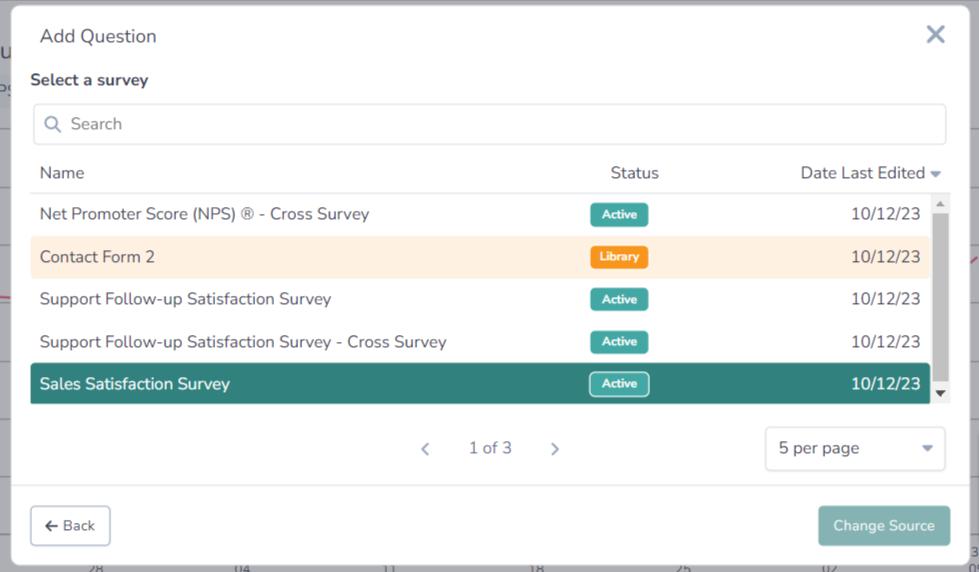 Also Works with Global Questions and Combine Results
If you use Global Questions in a number of surveys, you can easily show the results for those questions alongside the new cross survey features within a single report. Each chart element will include a label with the name of the survey where the question was pulled from, or the name of the Global Question. This way you can quickly show how the same question was answered in different surveys, at different times, or by different audiences. This makes it easier to combine reports in a longitudinal style from data that isn't identical. Learn more by viewing our help documentation.
How Cross Survey Reporting Works
You can now aggregate questions from different Standard Reports into a single Standard Report by adding a chart element and selecting the surveys and questions you want included in the parent Standard Report. Including cross survey reports does not affect the underlying data. You are not combining data sets – you are sharing question-by-question charts and graphs from separate surveys. That way if new feedback comes in after you've set up or created the report, each subsequent time you run the report, the data will update automatically. Learn more by viewing our help documentation.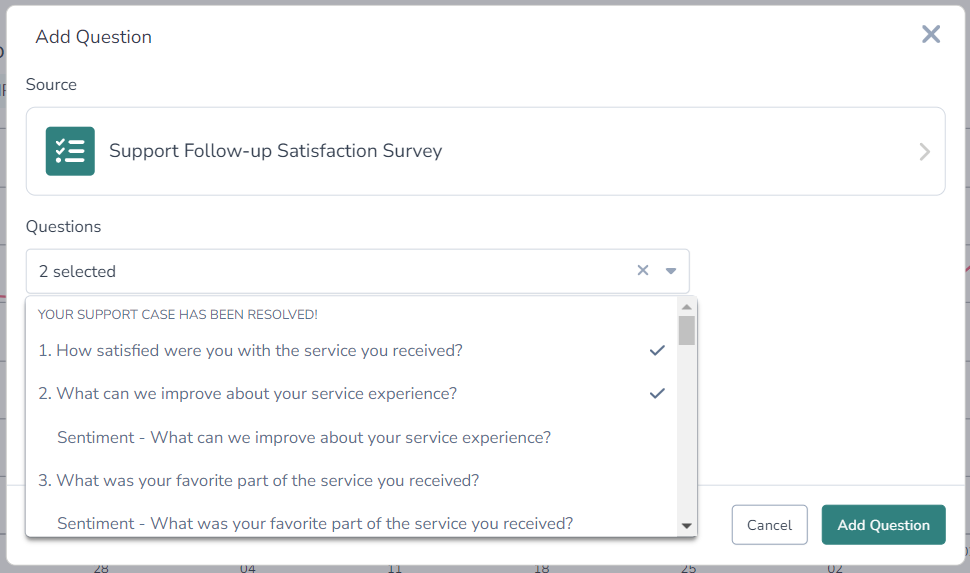 Benefits for Many Types of Feedback Programs
Combining feedback collected across multiple surveys into a single Standard Report allows you and your team to perform deeper analysis. trend identification, and to ensure that feedback from desired audience segments is being represented.
While anybody can benefit from the ability to gather data points from multiple reports, here are a few examples of how different team members could use cross survey reporting to their benefit:
CX Program Owners who want to compare customer satisfaction at different touchpoints to find the most valuable areas of improvement on customer satisfaction or who want to combine results across NPS surveys for a single brand metric.
Market Researchers who want to understand audience groups with precise segments and targeting across surveys and studies, and who want to generate audience lists from past study participants.
Employee Experience (EX) Owners who want to compare recurring, yet separate, engagement surveys to measure the impact of organizational initiatives on employee satisfaction.
Business Process Owners who need to audit form data across automated business processes to comply with regulatory or organizational policies.
New Alchemer Workflow Standard Reports
Alchemer Workflow customers can now create Standard Reports to view collected data across all of the connected surveys within a workflow. This allows you to visualize and analyze results across touch points, surveys, audiences, and more from a single workflow. This new report is now available to Alchemer Workflow customers. Learn more by viewing our help documentation.
Now Available to Alchemer Survey and Alchemer Workflow Customers
The cross-survey reporting feature is included in the Standard Report for enterprise customers with Professional and Full Access licenses, as well as Alchemer Workflow licenses. With the features to combine reports into a single report, and combine data sets with Global Questions and Combine Results, we can serve most of our customers' cross survey reporting needs. Learn more by viewing our help documentation.