"Should we buy this software or build it ourselves?"
The question is both one of the most common and one of the most challenging dilemmas facing modern managers. In their challenge to juggle immediate needs with long-term goals, managers tasked with making the decision to build or buy often struggle in what seems to be a comparison of apples to oranges.
In the case of software, the dilemma becomes increasingly difficult as most enterprise companies have the resources and talent in-house to build the software. It thus becomes less a matter of "Can we do it?" and more a matter of "Should we do it?"
In the end, only you can make the decision to buy or build the software you need. We've, however, done our best to help you reach your decision with confidence by detailing each of the key points to consider when evaluating the 'build vs. buy' dilemma in the context of your business in our new guide, Build vs. Buy: Evaluating Third-Party Mobile SDKs.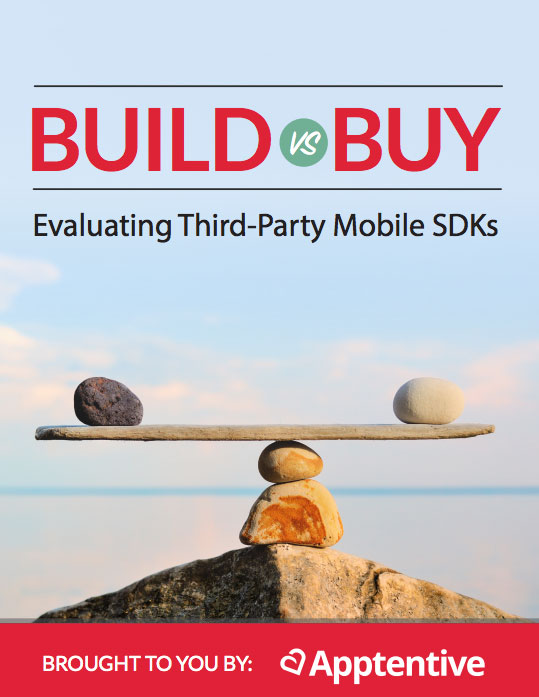 In this guide, you'll find data-backed advantages and disadvantages of both building software internally and buying it from a third-party, as well as some common myths and overlooked attributes of both in-house and out-ofthe-box solutions.
But wait… my company "doesn't do SDKs"
Commonly, the 'build vs. buy' dilemma comes to an abrupt end when companies are reluctant to integrate, or even forbid integrating with, third-party software development kits (SDKs) of any sort. This is almost always fallacious thinking as the vast majority of app publishers already work with a wide array of third-party tools.
In fact, the top 100 apps in the App Store average no fewer than 6.72 different SDK integrations, covering a variety of functions from crash analytics to Facebook social logins to review management: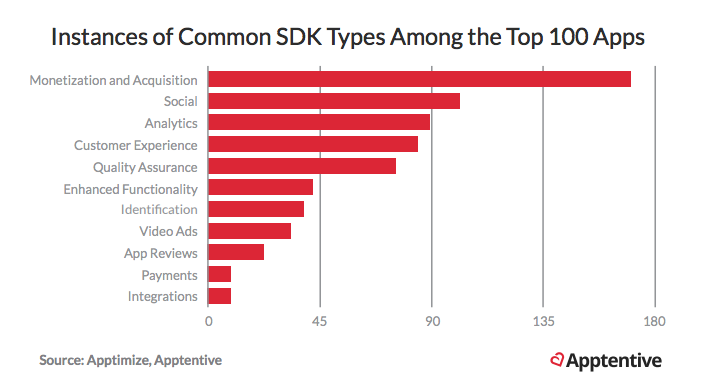 Often, third-party software is given a bad spin, seen as something foreign or invasive in an otherwise pure app. What it really comes down to, however, is delegation. By integrating third party software, you're neither contaminating your app nor admitting that the software solves a problem you couldn't solve with your own code. It simply means that you've chosen to delegate a specific business function to allow you to focus on your core app; you've chosen not to reinvent the wheel when there is more valuable work to be done.
To see if your app has integrated any SDKs, look at the eleven features shown in the chart above. If you're using any sort of tool for analytics (e.g. Flurry, Google Analytics), monetization (e.g. Google Mobile Ads), or social integration (e.g. One-tap registration with Facebook), you're already using third-party software. You've already made the conscious decision to delegate certain aspects of your business so that you can focus on what really matters.
Grab your free copy now
What are you waiting for? Grab your free copy of Build vs. Buy: Evaluating Third-Party Mobile SDKs today!
As always, we love to hear your feedback on the content we produce. If you have thoughts on what you read, please leave them in the comments below!