It's no secret star ratings impact the discoverability and conversion of apps, and companies' overall brand image. But how has their impact changed over the years, and how can today's mobile marketers understand how they're doing in a crowded sea of apps?
To answer these questions and more, we dug into data from around 1,000 of Alchemer Mobile (formerly Apptentive)'s customers' mobile apps to come up with benchmark metrics for companies to measure their mobile apps' performance (you can see the full report here). Data included in the report serves as a benchmark for companies seeking to understand how their apps' engagement stacks up against their competition, along the entire mobile landscape.
In today's post, we take a deep look into how ratings and reviews impact an app's disoverability based on looking at apps across all categories and drilling down into specific app store categories. From our findings, we hope you're able to take our benchmarked view of the mobile app landscape to understand how your own app is performing, and uncover opportunities for improvement.
Let's dive in!
Average ratings across all app categories
Star ratings play a big role in the customer adoption process, and data from our research on the value of a star revealed 59% of people usually or always check ratings before downloading an app—even if everything else checks out.
In addition, the opportunity cost of a star is huge. Take a look at the image below to see how a change in your average star rating will impact your app store conversion.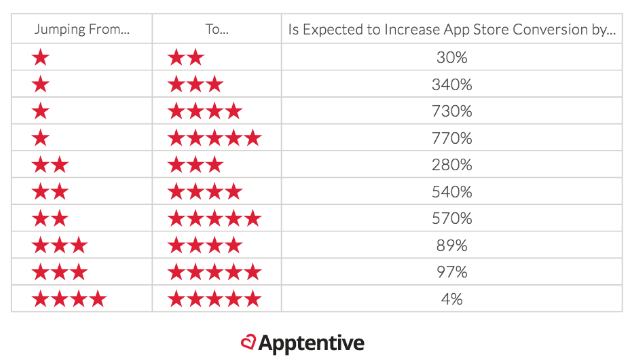 From our research, we found that the average volume of ratings across all app categories is 355,045 with majority subsisting of 5-stars. This trend shows that most apps are driving the right types of reviews toward the app stores, but that there is still room for improvement.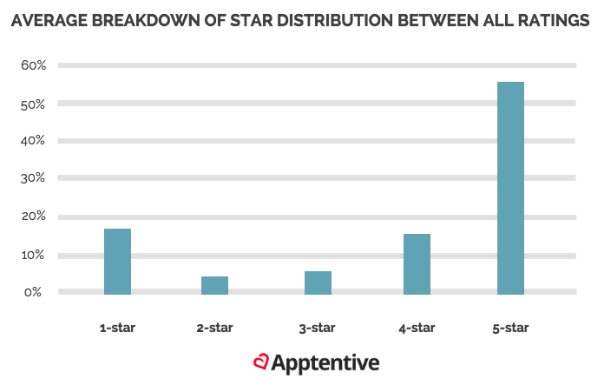 Average ratings by app category
To truly understand how ratings and reviews impact app discoverability, we took it one step further and broke our data down into app category. As you can see from the chart below, all apps are not created equal when it comes to their category; Lifestyle apps dominated the pack in average number of reviews, while Entertainment, Shopping, and Food & Drink apps tailed closely behind. The fifth most popular app category was Productivity, although on average, apps in this category only have a fraction the reviews we see in the most popular categories.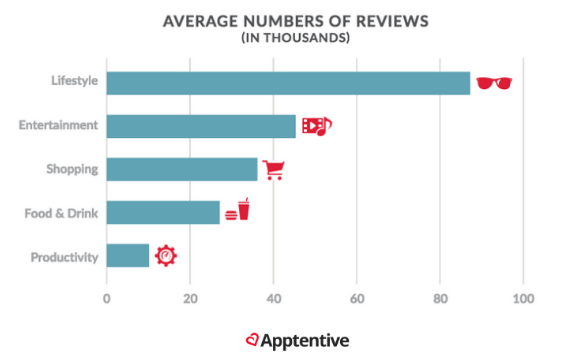 Potentially even more interesting than the average number of reviews across app categories is the distribution of ratings across categories. Below, we see the percentage of one to five-star reviews apps typically see, broken down by app category.
When it comes to five-star ratings, Food & Drink apps took first place, even though they have, on average, fewer reviews than apps in other categories. Shopping and Lifestyle apps were a close second and third, followed by all other app categories.
Looking at one-star ratings, Entertainment apps were the top offender, with one-star ratings significantly higher than apps in other categories. Productivity apps came in second for highest number of one-star ratings, followed by all other app categories.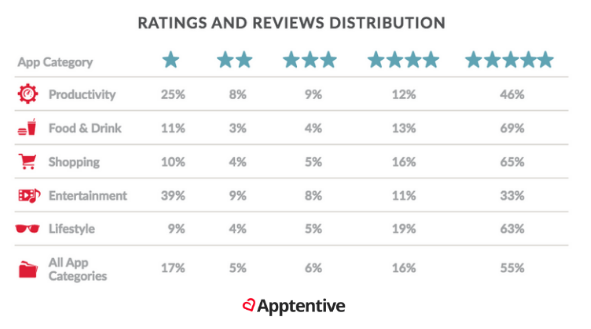 The solution for better ratings and reviews? Prompting intelligently.
As our data shows, there is always room for improvement when it comes to your app store ratings and reviews, regardless of app category. But encouraging ratings and reviews at the right time within your mobile experience can be a challenge, no matter what industry you're in. Based on the above research and beyond, our big tip to improving your app's ratings and reviews is to prompt customers intelligently.
The vast majority of your customers genuinely enjoy your app. Yet, with the exception of a small minority who really love your app and want to invest the time to give you props, this group has little incentive to leave a review. They like your app but have little to say beyond: It just works. When everything works as as expected, we don't notice the elegance of the design. Yet, when we find a broken link or any other hiccup in the interface, we experience frustration. We know that something is wrong. Suddenly, the interface emerges from the background and leaves a conscious impression.
The truth is, apps are held to a very high standard. We expect them to work perfectly and have little motivation to review an app that simply meets our expectations, no matter how high those may be. It is only when apps fall short of our expectations that we put them under scrutiny. And to get better ratings and reviews, we have to put positive experiences under the same scrutiny. We have to bring the user interface, mechanics, and other background elements to the surface and proactively nudge customers to consider their experience.
At Alchemer Mobile (formerly Apptentive), we've found the best way to do this is by asking a simple stop question: Do you love this app?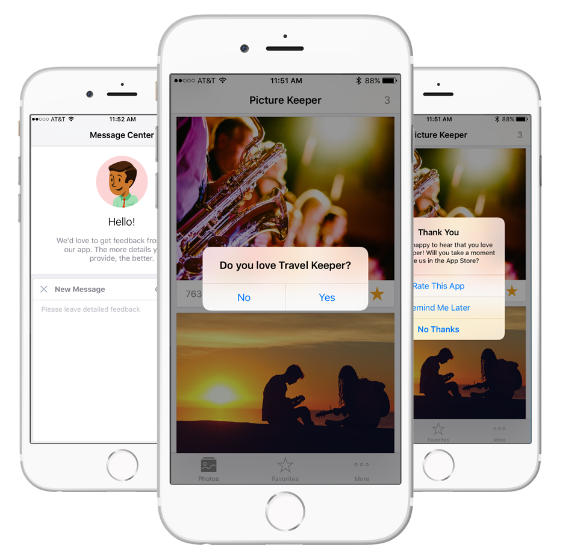 When this question flashes across a customer's screen, they're forced to pause and consider their experience, asking themselves:
What are my expectations for this app?
How well does this app meet those expectations?
If they're like the majority of customers who find that your app "just works," they'll now recognize what a blessing this is and how a seamless, natural experience allowed them to use the app to fulfill their needs rather than spending time confused, lost, or frustrated. These customers are your fans. They've self-selected into a pool of evangelists and have no reason to leave you anything other than a five-star review, making them the perfect group to solicit reviews from.
Those who have considered these questions but recognized some shortcomings in your app are your sources of feedback. They've evaluated your app, know what they're looking for, and can tell you where your app could use improvement. When this type of feedback surfaces, it typically takes the form of a one-star review. These reviewers don't hate your app, but they want more, and have ticked the one-star box to mark their message as important in the hopes that it will reach a developer's eyes.
Now, with your customers segmented into your fans and your sources of feedback, all you need to do now is to direct them to the most appropriate communication channel.
Your fans have nothing but positive feedback. These are your prime reviewers who can take that feedback and share it with the world in the form of a public review. Your feedback sources have mixed reviews that deserve acknowledgement. You want a channel where you can engage with these customers one-on-one, hear out their feedback, and start a conversation to dive deeper into the valuable insights they have to offer. For this feedback, a one-way channel like the app stores will do little to improve anyone's experience. Instead, you want something more personal (like email or in-app chat), where you can give the feedback the attention it deserves.
In conclusion
The benchmarks covered in this post are meant to provide a better understanding of how your app's ratings and reviews measure up to the industry as a whole. Collectively, these metrics provide a holistic view of how engaged your mobile app customers are with your brand, and will help you identify your app's fans and sources of feedback in order to intelligently ask for their thoughts within your app.
I hope you can leverage the data from our report to help influence your ratings and reviews strategy, allowing you to gather better feedback from your customers, and to hopefully improve your chances at discoverability within the app stores. See you at the top of the charts!