By Cathy Yang, Senior Product Manager at Alchemer, and Vanessa Bagnato, Director of Product Marketing at Alchemer
The August release of Alchemer Mobile includes Survey Skip Logic, a powerful feature that delivers more streamlined surveys to your audience and provides highly actionable insights for you. Add Survey Skip Logic to your surveys to create personalized experiences that engage customers, capture meaningful responses, and unlock deeper insights. This feature is available now for all Alchemer Mobile and Web SDK customers.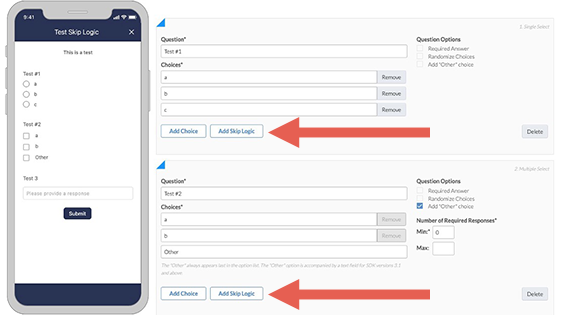 Get Deeper Insights from More Relevant Survey Questions

Survey Skip Logic enables you to tailor survey experiences based on customers' answers in the same survey, creating a more responsive and engaging journey. With Survey Skip Logic, you can:
Set up different paths through the survey for different characteristics of customers seeing the same survey
Screen respondents in the survey and avoid over-surveying customers who aren't interested or don't have the characteristics you're looking for
Set up variations of questions with nuanced wording or different answer options and route respondents to the right variation based on their answers
By asking only relevant follow-up questions, you can capture insights that go beyond surface-level responses while avoiding drop-off from lengthy surveys. Streamlining questions reduces participant fatigue, speeds survey completion, and increases survey engagement.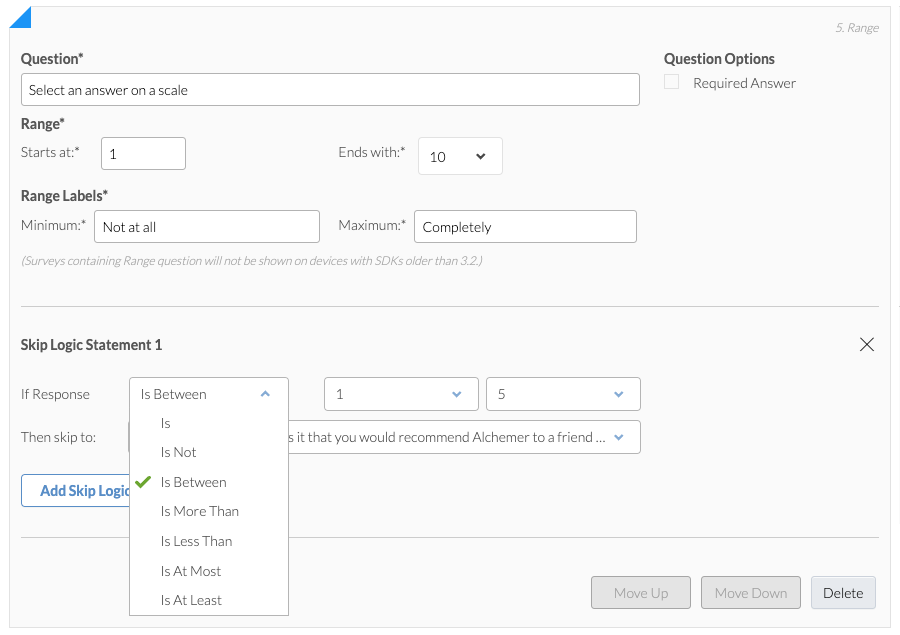 Increase the Value of Your Survey Results with a Few Clicks

It takes just a few clicks on the dashboard–no programming or technical knowledge needed to set up Survey Skip Logic on your Mobile or Web surveys. The answer-based logic corresponds to the type of question being answered with shortcuts to help you build out the logic flow quickly, including automatic grouping of Promoters, Neutrals, and Detractors in NPS questions. Easily choose a group to skip to the end of the survey and a group to see follow-up questions.
With the power and accessibility of Survey Skip Logic, you can dig deeper without having to interrupt your customer's in-app experience with an external survey. This helps you keep customer engagement, response rates, and survey completion rates high.
Seamless Integration with the Latest Versions of the Alchemer Mobile SDK
Seamlessly integrate Survey Skip Logic into the Alchemer Mobile SDK and Web SDK to optimize your survey strategy. With simple implementation, you can quickly leverage the benefits of personalized surveys on Alchemer Mobile SDK 6.1 or later for iOS and Android. Plugin support for React Native, Flutter, Cordova, Xamarin, and mParticle (iOS only) is also available. Note: Survey Skip Logic for mParticle for Android is coming soon. Be sure to upgrade to the latest Alchemer Mobile SDK to take full advantage of Survey Skip Logic. There is no need to update Web SDK to add Survey Skip Logic to your surveys. Learn more about using Survey Skip Logic from our documentation.
Available Now
Survey Skip Logic is now available to all Alchemer Mobile and Web SDK customers. Upgrade to the latest Alchemer Mobile SDKs to improve your survey strategy today and experience the power of personalized surveys and actionable insights.
Alchemer Mobile Documentation Has a New Location
As of August 1st, 2023, all the valuable resources, guides, and documentation you need for utilizing Alchemer Mobile – including Alchemer Mobile help documentation – can now be found at help.alchemer.com.