Just in time for Santa's little helpers — We just received a huge shipment of original Alchemer Comic Cookbooks.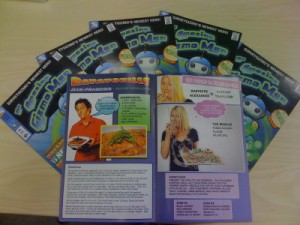 Now, these are not your ordinary, plain-jane cookbook (because we're not ordinary plain-jane people!). The cookbooks are chock-full of our personal favorite recipes along with some colorful commentary that we're sure you'll enjoy.
Here are some of the comments our cookbooks have already received:
Just rec'd a great comic-recipe-book from folks @surveygizmo. Nice surprise/excellent idea. I've always been a fan…even more so now!"
Just got my copy of the SG Comic-Cookbook. Thanks for bringing a little levity to my day. Can't wait to try out some of the recipes. Personally, I think the 12-cent newsstand price is way too low. You could have easily gotten 13 or 14 cents a copy for this thing. 🙂"
If you have had a paying account with us and we had your address on file, you should have received your cookbook in the mail. If you didn't receive one or want to share it with your friends, please fill out the quick survey below and we'll ship some out to you.