Learnings from your NPS responses
Most people don't realize that the team at Alchemer reads every NPS® (Net Promoter Score) survey. Recently we received a question in our NPS survey that helped us recognize that many people don't realize that we have Administrative Questions. In the survey, the customer noted:
Score: 8
Improve: Add the opportunity to hide questions in the questionnaire for respondents and to use them for manual adding answers options by the Alchemer user. It will be possible to use such questions in data analysis and reporting as additional parameters.
Favorite: Good questions constructor, auto-reporting
Granted, the name Administrative Questions probably isn't crystal clear, but Alchemer offers this capability for Professional and Full Access licenses. You can learn exactly how to do this in our Documentation under Question Settings – Administrative Questions.
What Are Administrative Questions?
Administrative Questions are not visible to the respondent but are available to Alchemer license holders when viewing Individual Responses under the RESULTS tab.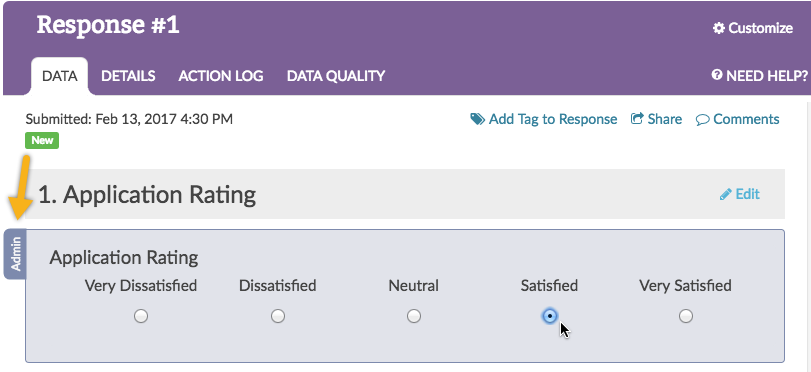 You can include an Administrative Question (or as many as you would like) at any point.
Why Add Administrative Questions?
Administrative Questions (or Admin Questions) are ideal when using Alchemer for evaluations, job applications, lead generation, NPS surveys, and similar situations where you want to add notes to a survey, but you don't want the respondent to see them.
Adding Admin Questions to a job application allows interviewers to rank the applicant on certain areas of the application and/or give the applicant an overall ranking. You can even use it to track somebody's progress through the interview process.
How to Add Admin Questions
Think of Admin Questions like any other survey question. The only difference is they are hidden from the respondent.
Adding an administrative question is as simple as adding a question to your survey.
1. Click Add Question on the page you would like to add your admin question
2. Select a question and customize the Title and Answers, then click the Logic tab
3. Select This is an admin-only question and Save Question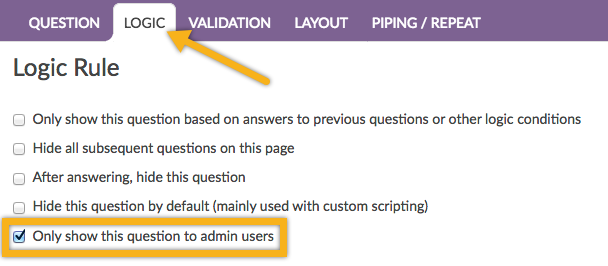 When to Add Admin Questions 
You can add Admin Questions at any point – before, during, or after the survey is fielded. Be careful adding it while the survey is live; mark it as Admin before saving; otherwise, it will show to respondents.
Who Can See Admin Questions?
Alchemer limits access to Admin Questions to Administrative users and anybody with an Editor role. Your Account Administrator can also add a custom role that allows people to see and answer Admin Questions but not edit the survey.
Simple navigate to Account > User Management > Roles > + Add Role. Under the Miscellaneous Permissions, check or uncheck Answer admin questions, then Save Role.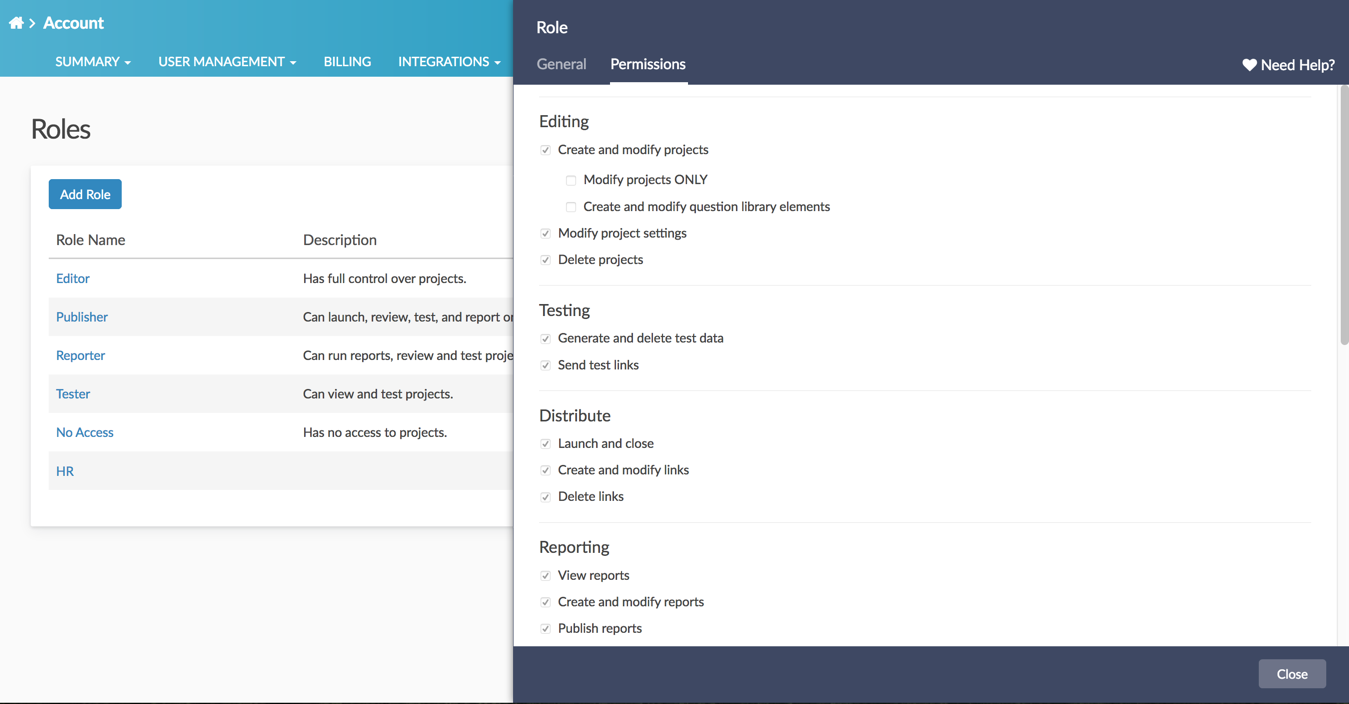 Reporting Admin Questions
Standard reports will not include Admin Questions; however, you can manually add them to your standard report. To do so, insert the Admin Question from the dropdown menu and click Add Question.
To learn more about Administrative Questions, click here.
Thanks to all of our customers for helping us make our product better. Happy surveying!