When it comes to apps, the competition is fierce. Nearly five million apps fight for coveted spots on a person's device. Consumers, however, have limited storage, short attention spans, and little patience for sub-par performance. App uninstalls are common and any app that fails to dazzle users, doesn't offer value, or does not provide lucrative incentives to keep using the app, is likely to go down the uninstall path within the first three days.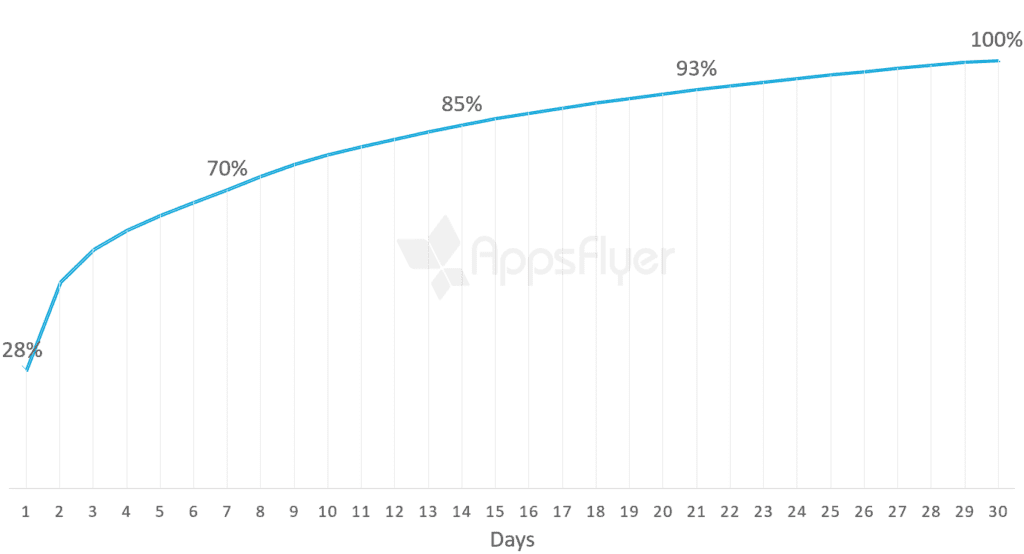 Common reasons why people uninstall apps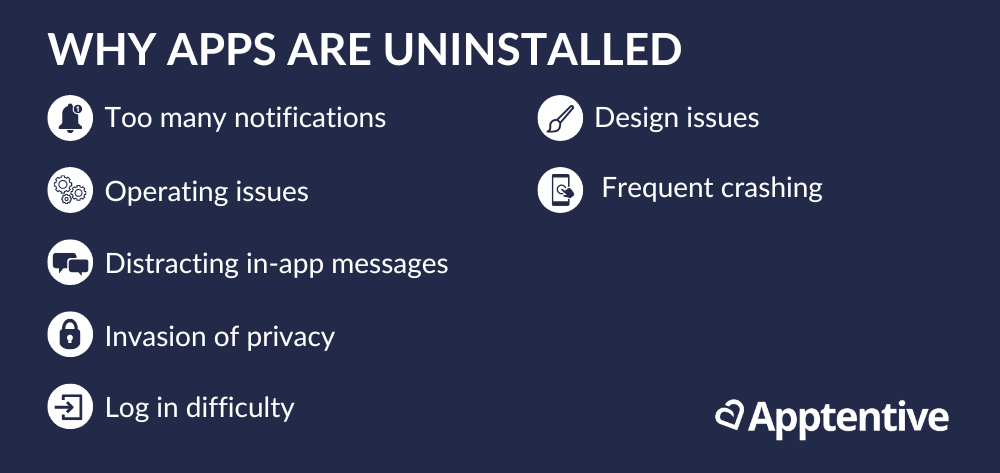 Too many notifications
One of the strongest points of an app is to have real-time interactions with your customers, without the use of individual login. However, notifications can also be an app's reason for an uninstall. Many app publishers go overboard with the notifications and constantly nag their customers to draw attention toward new features and in-app changes. 
But this strategy is often counterproductive, and many users find intermittent notifications irritating and even offensive as an infringement of their personal space, and choose to delete those apps that they find nagging.
Operating issues
The main function of an app's design is to simplify the customer experience and customer interactions. An app that is hard to use and complicated to understand and operate will eventually see an uninstall. Apps that are not user-friendly have no place in the fiercely competitive app market.
Distracting in-app messages
One of the most annoying attributes of an app can be the frequent pop ups that ask for feedback on user experience, calls to upgrade to a new version, or adverts that provide links to other apps or paid/free features within the app.
In-app messages are definitely valuable tools in the hands of the app developers to enhance their CX, especially when asking for feedback, but the timing of the in-app message is critical.
Invasion of privacy
There is already widespread mistrust towards many web applications due to misuse of the private information. Many apps can appear to be overly intrusive or demanding with regards to personal information of their customers, even if what they're gathering is necessary and valuable to offer a better experience. When perceived in this way, they have high chances of being viewed with suspicion and eventually being deleted.
Log in difficulty
Many apps ask for a lot of information even before giving a preview access to the intended user. When users are asked for many details before actually experiencing the app, they're generally not willing to share until they are sure the app has the features they're looking for. This can be a huge deterrent to many people, leading to uninstalls.
Design Issues
The way an app looks is important to initially grab customers and keep them interested in visiting the app again and again. If the app is not attractive looking in terms of overall design, usability, and interface, chances are that it will quickly become a candidate for bouncing, or worse, for an uninstall. According to Shopify, almost 67% of customers abandon their shopping carts before making payments and 1 in 4 shoppers do it because of the complicated navigation. That is a lot of business to lose!
Frequent Crashing
An app that continuously crashes or freezes intermittently is one of the biggest reasons for app uninstalls. The freezing of an app in the middle of an interaction is incredibly disruptive and distressing to customers, and will certainly create a suspicion towards the app quality and usability.
6 ways to reduce uninstalls
To put it simply, you need to listen to what your customers are saying about your app, find out what is troubling them, and fix it. Easy, right?
It's easier said than done, but by following the six steps below, you can significantly improve the overall user experience and satisfaction to ensure a long and mutually-fulfilling stay on the customer's device.
1. Master your analytics and monitor critical drop-off points
For effective retention, you must leverage the power of clever analytics and tracking software to find out what is ticking your users off the most. Mapping in-app KPI's to find out exactly where your users disengage is the first step to diagnosing and fixing the problem.
There are a number of potential drop-off points for an app user. Your app's on-boarding process may be confusing, the registration may take forever, and finding the relevant product, service or information could be a hassle. If yours is a gaming app, running out of credits might be what's causing drop-off. If it's a shopping app, unexpected shipping charges can be the tipping point. Knowing precisely what your users find distasteful will help you fix critical issues and avert disengagement.
Use in-app event tracking and analytics to gather insightful data about how customers like to use your app, but remember every person is different. While some may be using your app to buy a certain product, others might be using it only to compare prices. Knowing this helps you offer targeted incentives that will nudge 'on-the-fence' users to gravitate towards completing high-value actions in the app.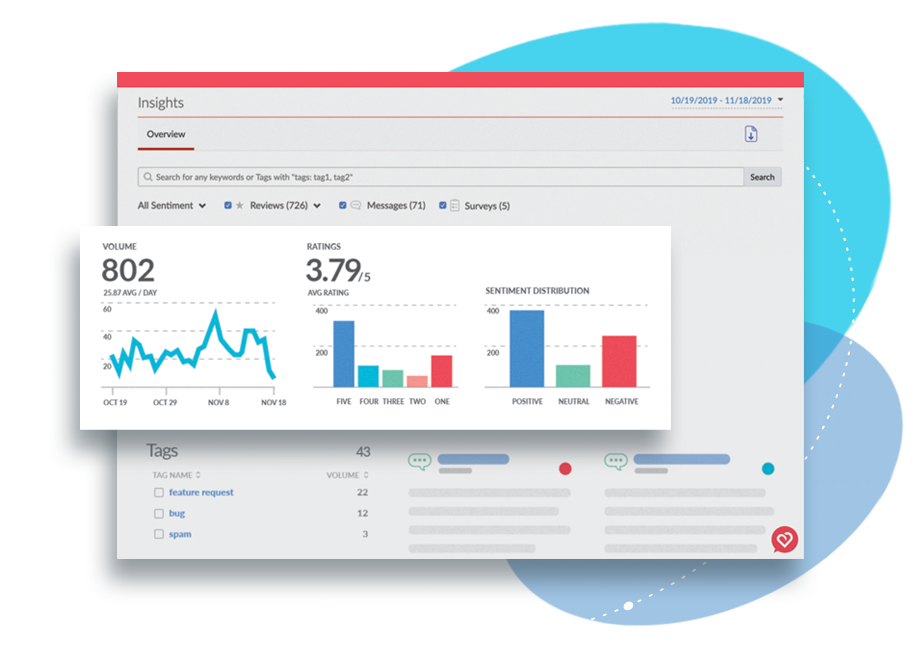 2. Offer personalized incentives to dormant customers
30% of users will consider coming back or start using an app if they are offered a discount or coupon for their next purchase. In a market full of apps where users have too many choices, most people will only come back to your app if you offer something tangible like real savings and discounts.
The right way to do this, however, is to personalize and customize the offer to every individual customer. For example, offer discount on a product that's been lying in their cart, with a personalized message that makes them feel valued. Track the services they frequently use and extend customized offers accordingly.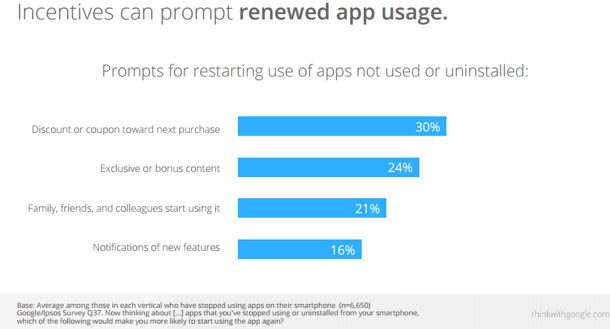 3. Re-engage across multiple channels
An effective re-engagement strategy should involve multiple channels and touch points instead of using just one. In addition to using compelling in-app messaging and clever push notifications, you must leverage other channels to entice users.
Email marketing is still a great way to re-engage customers. Checking emails is, for most people, a daily ritual, and if done well, a persuasive email marketing program can steer users back to your app. Take a look at some of the most re-engagement emails for your inspiration.
Social engagement is still a great way to re-engage customers who may have gone away from your app. Popping up in your users' news feed with an offer and friendly nudge can effectively draw them back to your app.
4. Gather and implement feedback
How do you find out what your users think about you? Simple—ask them. And then listen.
Scour multiple channels to gather actionable feedback directly from users. Watch out for reviews on app stores, social networks like Facebook and Twitter, open-ended email feedback, and others. Most users who are upset with your app will share their frustrations on external channels like the app stores and social media instead of directly contacting you. That is why it is crucial to keep a pulse on what customers are saying about you, and to engage to genuinely resolve their concerns.
In-app feedback is one area where you can really maximize engagement and minimize chances of uninstalls. Actively seeking feedback in-app and promptly resolving issues can, in fact, prevent negative reviews from going public in the first place, and create a communication channel between you and the user, bolstering trust and confidence. And who better than Alchemer Mobile (formerly Apptentive) to help you with that?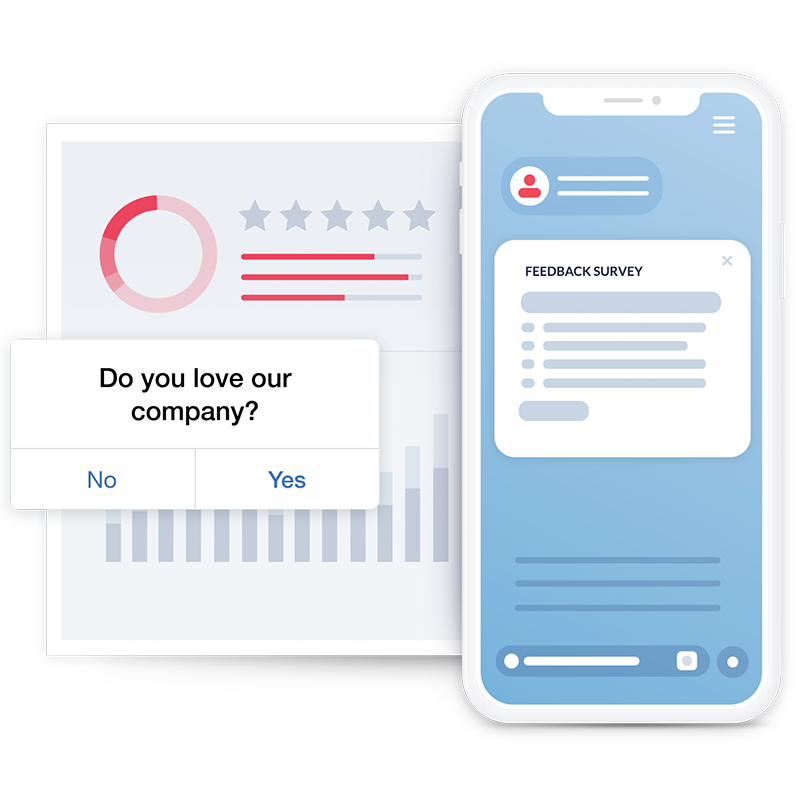 5. Provide a great experience from the start
This may sound like a no-brainer, but no harm in refreshing our basics, right? When it comes to designing a spectacular user experience at the development stage, several factors need to be considered.
Smooth your onboarding process.

Keep it short, explain why you need the details you are soliciting, do not force users to sign up and remember allowing social media login.

Look out for battery life.

Apps that are too heavy and drain the users' phone batteries quickly are less likely to survive on the device.

Stay low on storage.

Too many apps, too little space. Users struggle to keep all their favorite apps on the limited storage, and if your app occupies too much of it, users will find it difficult to keep you on.
6. GO EASY ON NOTIFICATIONS
Push notifications are one of the most powerful features of apps, allowing you to engage with customers, send targeted offers, and keep customers updated on your best features. However, timing is everything. Too many notifications can sour the experience and drive users to the uninstall button. An app that persistently pings and buzzes can nag users into flicking it off their phone.
The same rule applies to ratings. If a customer is asked to rate an app every single time they use it, it's easy to lose patience and just uninstall. Give customers enough time to use the app before you prompt them to rate it. If the customer has declined to rate your app, give them a good amount of time before you ask again.
Conclusion
The above tips can help you make sure customers who have installed your app continue to use it and enjoy it for years to come. An app that does what it promises, provides value for money and time, delights with every use, and performs consistently will retain the coveted spot on the user's device and manage to convert time and again, giving you the ROI you deserve.
To get started today, request an Alchemer Mobile (formerly Apptentive) demo today.