With more than four million apps available on both Apple App Store and Google Play, it has never been more difficult for content marketers to grab user attention.
The pressure of coming up with content that not just brings in more subscriptions, but allows for genuine engagement, is tremendous. Unfortunately, many apps have died a quick death because of their inability to come up with engaging content.
If you run the numbers, almost 91% of mobile users see content as 'Important,' and that's a number you can't afford to ignore. It may be difficult to come up with the 'right' mobile content, but it's not impossible. The first step is to see mobile app content as a unique entity. You cannot have the same content marketing strategy as you would for a desktop or any other device, and planning a content marketing strategy that exclusively caters to your app's experience is key to success.
To garner the attention you deserve, here's how to create engaging content for your mobile app.
1. Get your targeting right
Many mobile app publishers make the mistake of executing strategy without proper analytics. For example, this is one of the reasons content delivered through push messages have seen a divided opinion from customers. Only 52% of users enable push notification in their mobile apps, which makes it difficult for mobile apps to create a large impact with their content.
Mobile apps that fail at getting their targeting right end up annoying customers as they don't want to receive messages that have no relevance to them. But on the other hand, in-app messages that get their targeting right and send relevant content are able to convert 54% of users, on an average.
Even if you are able to get your in-app content right under your customers' noses, you are still fighting against fleeting attention. With an attention span of less than eight seconds, you have to make sure you target the right content to the right person.
In the information age, instant gratification is the only way to engage. Sending generic or mass in-app messages is only going to make customers discard your app. Enhancing user experience through personalized content is the best way to get users to engage with your messages, long after they have installed the app.
For example, United Airlines may have been in a tough spot for pushing customers out of their planes, but when it comes to push notification strategies, it does deserve a round of applause. United Airlines' mobile app has seen great levels of user engagement and brand loyalty by targeting personalized content to its audience at every stage.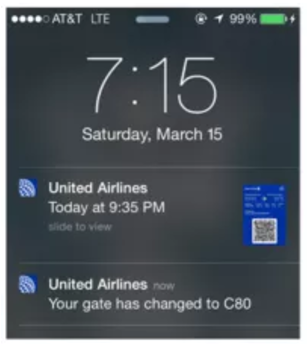 2. Collect in-app feedback
Customer feedback can help you understand a lot about your mobile app content—which pieces to keep and which ones to trash. In-app feedback provides marketers the ability to ask customers about their opinions while they are consuming content on your mobile app.
Unlike long, random survey forms, in-app feedback has the ability to retrieve genuine customer opinions. Once a person has used your product, understood your offering, and have interacted with your UI, they will be more interested in providing a feedback, which will be more concrete and quick.
The best part about in-app feedback is that it's easily scalable. No matter how many more content elements you add, how many more offerings you introduce, or additional geographies you cover, the technology to gather in-app feedback, once implemented, can be easily reused.
In-app feedback helps you improve your app's content, which has a direct impact on customer experience. The more your content aligns with what users want rather than what your product demands, you are able to turn the knob on your churn rate. But keep measuring customer satisfaction to make sure your feedback implementations are on the right track.
If you want to create engaging content and expect true loyalty from customers, you have to implement their feedback. To learn more about how to create effective surveys to start, check out this step-by-step guide.
3. Integrate with social media
Why keep the potential of your content within the limits of your mobile app—let it breathe. With 1.7 billion people who access social media through their mobile devices, NOT publishing your mobile app content's on these platforms would be a huge missed opportunity.
When you fight for attention in an otherwise cluttered app market, diversifying your content on Facebook, Twitter. Youtube, Instagram, etc. doesn't seem like a bad idea. Moreover, these platforms can help you engage your core audience and create a strong fan base for your mobile app.
Additionally, social channels help raise awareness of what your app does. Allow people to go deeper in understanding how your product can help them with their needs by sharing blog posts, ads, videos, and podcasts that are in sync with your brand's personality.
There are many ways of leveraging social media to create engaging content for your mobile app, including:
Influencers: Your content can spread far and wide if you are able to get the attention of social media influencers. Allow them to create customized content for your mobile app through influencer generated content that will resonate well with their followers. But be mindful when choosing an influencer, and make sure that their persona fits your app's goals and values.
Trailers: Just like movies, make short trailers to get people excited about your mobile app, and give them a sneak into what your app does. The aim of your trailer should be to create excitement, energy, and enthusiasm among users.
Rewards: Incentivize users for spending the time to interact with your content. It's an effective engagement tactic considering 84% of users prefer apps that provide rewards.
Here's an example of how Linkedin created a video trailer on Youtube to educate people on how to use the new version of the app. It shows users to amplify their networking, on the go.
4. Visual storytelling
Attention is worth a thousand words, but then, so are pictures. In an effort to attract eyeballs, visuals can help you in gaining higher user engagement instead of through lengthy text.
If mobile gives the advantage of portability, it also provides the challenge of a smaller screen. Creating long-form content to highlight your app's benefits might actually kill the interest of the user. But, visual content can make your app easily recognizable when users skim through it.
Almost 65% of your content can be retained by users even after three days of seeing it, and this can help you create a more powerful UI experience. Attractive icons can help you tell an engaging visual story, and unique icons that are easily recognizable on search listings and device screens can help you stand out.
Along with icons, use images that convey the right message. Select images that best suit the objectives of your content strategy—but be careful not to overdo it. Too many visual elements might shift the focus of the user from your core product offering. Find the right balance where your visual content allows for a healthy user experience.
For example, Soundcloud's app has nicely blend images as part of its visual storytelling. It has found the right balance between enhancing visual aesthetics and getting the relevant message across.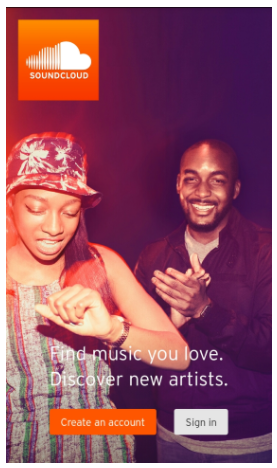 5. Share user stories
A customer success story can do more than just validate your claims; it can help you create an instant rapport with potential users. Such social validations help in building user trust. Many apps have geared their content to come up with engaging success stories, but lots of them have failed for various reasons.
For example, the stories that miss attention of customers may look more like a sales pitch for your mobile app. Your stories need to put the customer in the spotlight, and that means focusing on real human problems and emotions.
There has to be a gradual progression, starting from the customer's situation to their problem, to the chosen solution, and finally to the outcome. Strengthen the authenticity of the story using data and mention in detail how your app helped the customer.
After deciding what story to tell, you have to know how to tell it. Marketers have to decide which formats would provide the highest engagement. Here are a few popular formats that might help you tell better customer success stories:
Text-based case study: A classic form of communicating your customer success story. However, this might provide a serious challenge if your customers express a shorter attention span. Analyze user in-app sessions, and if they remain in the app for longer durations, only text-based content might be a great delivery method.
Video testimonials: You can offer videos in your app, or on a social media platform like YouTube or Vimeo. For higher engagement, keep your videos on the shorter side or create a series of small videos that can be watched one by one.
Hybrid: Use a mix of both text-based and video case studies. The mix provides users a way to engage with the stories through whichever medium resonates with them—reading or watching. A good tactic to start out is to use a video as a preview for a case study.
Muse, a restaurant in Berlin, is one of the more popular success stories of Instagram. When they started putting up mouth-watering photos of their daily dishes, customers would come in, show them the picture from their feed, and order the dish.
Winding up
After using all the above points, if you come up with a winning content strategy for your mobile app, do not stop there. The best way to set yourself up for success is to keep monitoring your content so that it remains fresh and relevant. Regularly ask for feedback and make changes accordingly.
Creating engaging content for your mobile app is not a rat race. It has nothing to do with who comes first—it's about who maintains a good content flow. Best of luck!