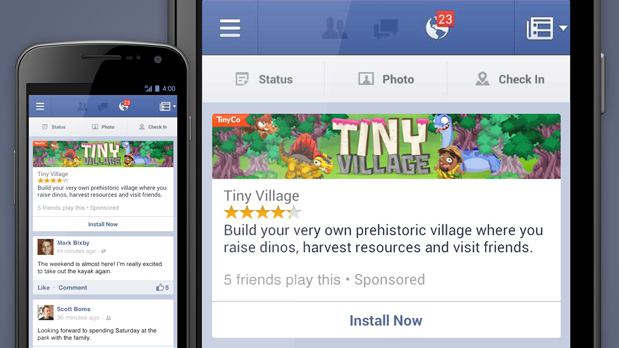 Booming competition across the major app stores is making it increasingly difficult for app developers to get significant organic download numbers. As a result, many are turning to paid user acquisition and app install ads as solutions to this problem.
Paid user acquisition campaigns (running ads) can deliver some amazing advantages to developers brave enough to give it a try. Some common ways that app developers successfully use ads is to drive installs to boost an app launch, collect valuable usage data, promote an existing app, or drive re-engagement.
But regardless of the campaign goal, everyone wants one thing: To minimize advertising costs. That means cheaper installs and cheaper mobile app engagement.
As an app developer, my personal favourite when it comes to advertising platforms is Facebook. The huge user base (over 700 million daily users on mobile), amazing targeting options, and most importantly, the ability to deliver low cost app installs and engagement, make it an ideal solution for app developers.
But like anything else, there is a learning curve if you want to optimize your Facebook app install ad campaigns. There are HEAPS of ways to improve your Facebook ads for apps. Instead of writing a monster blog post covering all of them, I've distilled it down to five core elements, or pillars, to share with you here.
These are the keys to a killer Facebook app install ad campaign for your mobile app. Nail each of these, and you'll end up saving a ton of time, money and frustration.
So let's get into the five elements and look at how you can improve each of them.
1. Laser focused targeting for your app install ads.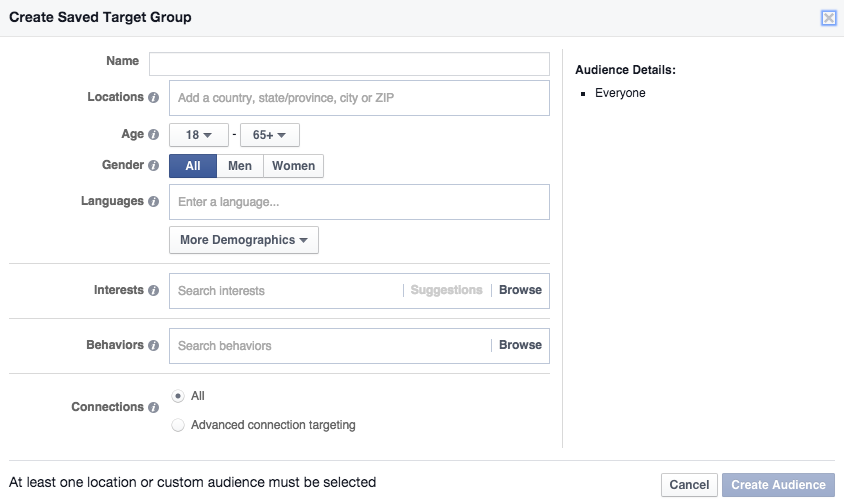 Targeting is what makes Facebook Ads so powerful compared to other advertising platforms. Get this right, and watch your advertising returns soar.
Targeting is all about putting your ads in front of the right people. And for us, the right people are the ones who will download, use, and spend money in our apps.
Facebook offers us a huge range of targeting options. Let's look at each type of targeting that's available and what you can do with them.
Demographics – Target people by location, gender, age, relationship status, level of education, work, financial income & net worth, ethnic affinity, generation, whether or not they are parents, political preference, or certain life events. Wow, that's a big list!
Interests – This is where it starts to get really cool. You can target people based on what they are interested in. This data isn't just guesswork, Facebook knows because people share this information openly. Super powerful stuff!
Behaviours – In case that's not enough for you, Facebook also allows you to target audiences based on behaviours. Here are just a few examples of some behaviours you can target:

People who travel frequently
People who have made a purchase at a high-end luxury store
Or people who live in a household that uses bottled water

Yep, all of those are actual targeting options taken straight from Facebook. I'm always amazed (and sometimes a little scared!) at the detailed information Facebook has about its user base. But hey, it's great for us advertisers!
Here are my tips to help app developers improve Facebook App Install Ad targeting:
Work out who your perfect user is. Whether it's through analytics or market research, you need to really get specific about what your most valuable app users look like. That will make targeting much easier and more effective.
Once you know who the ideal user is, use demographic targeting to find them. Narrow down the demographic targeting as much as you can.
Be specific with interest targeting. For example, let's say you've got a running app. You could target people interested in 'Fitness and Wellness.' But health & fitness is a broad topic right? I mean, you probably wouldn't want to show your ads to people who are interested in yoga. The good news is you don't have to! You can get really granular and target people interested only in running, and that's exactly what I recommend doing.
Target users who are interested in your competitors. Interest targeting also allows you to target people based on products or services that they like. That means that you can often target people based on them being interested in a particular app.

To give you an example, I've previously used this to target an audience interested in the app 'Subway Surfers'. I knew people who liked that game would also enjoy my game. And it worked REALLY well. With that campaign I achieved installs from tier 1 countries (USA, US, Aus & Canada) for less than $0.40 each.
2. Catch the eye with a stunning image or video.
Once you've got your targeting set up, it's time to create the app install ad. The image or video that you use is going to be the first thing people see, so you have to make it count. A second-rate video or image won't cut it.
The role of the image or video is to get the attention of your ideal user. Always keep that in mind when you are creating images & videos. Notice I said ideal user, and not just anyone. You could use a picture of a pink gorilla dancing in the street that will get the attention of a broad audience, but if 99% of those people aren't interested in your app, it doesn't matter.
Here are some tips for creating an effective image or video.
Look at your competitors to get an idea of what's working. Leverage the work already done by big marketing departments by studying the images and videos they use. See what techniques they are using and apply them to your own images.
Don't apply the same strategies to all apps. Once you start looking at competitors you will notice that particular techniques work better for particular app categories. Find what works for your category.
Use something bright, eye-catching, and interesting. There is a lot going on in the Facebook feed. You want to stand our above the noise.
Make it relevant. For example, if your app is a running app, it would be much better to show a fit person running than someone sitting on the couch watching TV.
Don't use low quality images. This is going to set the first impression of your app. If you use a blurry, poor quality image, people will assume a similar low level of quality from your app.
3. Capture The Click With Great Text
After looking at your app install ad's image or video, the next thing people do is read the ad title and body text.
The image has already done its job and captured attention. Now it's up to the text to convince that person to click on the ad.
You need to communicate the most appealing features of your app in as few words as possible. Here are my tips:
Think about what features appeal to your audience most and tell them about those features as succinctly as possible.
Don't overuse capitals. You can emphasize one or two words, but don't go crazy.
Always include a call to action. When you create the call to action, use something they enjoy doing instead of just "download now!". Here's an example of what I mean by this:

If you're advertising a multiplayer racing game, what does your ideal user like doing? I'm going to take a guess and say racing their friends!

So as my call to action, I would put "Click here race your friends now!" That would be much more appealing to your audience than just a boring "Download Now".
4. Make sure your non-keyword ASO is amazing
This is something that is often overlooked, but it is vitally important.
When I say non-keyword ASO (App Store Optimization) I'm talking about everything that a person sees on the app store page for your app. The icon, screenshots, title, app description, and average rating.
When a user clicks on a Facebook App Install ad, they are taken to the App Store page for your app. They will then see all of these things before deciding whether or not to take the final step and download it.
It's great to have an effective Facebook ad, but it's all wasted if people get to your app store page and don't download because you haven't optimized your non-keyword ASO. Don't let a bad icon, screenshots or app description ruin an otherwise great ad campaign.
Another thing I want to mention is the importance of your app's average rating.
The average rating is displayed in both the Facebook Ad, and on the App Store page. Having a 4 or 5 star average rating will have a positive effect on your ad campaigns because people love social proof. If someone sees an ad for your app with a 5 star rating shown below, they are much more likely to click.
You can see the app store rating in this Facebook ad for Rosetta Stone. Also check out the call to action: "Free App: Start Learning!"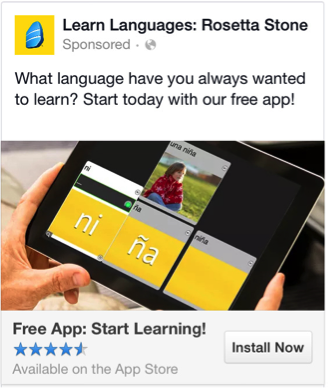 You should always aim to get as many ratings and review for your app as possible. Using a tool like Alchemer Mobile (formerly Apptentive)'s intelligent ratings prompt is a must-do. For the sake of the first five reviews, though, I'm sure you've got at least five family members & friends who can help you out there.
5. Test, Test, and Test Some More
The final pillar I want to talk about is Testing. And I can't stress its importance enough.
You should always test different images/videos, titles and text for your app install ads. Finding the best combination takes time and effort but it's well worth it.
You may be tempted to pick the image/video that you like the best, write some text and post the ad. But if you do this, chances are you will be paying way more than you need to per install or engagement.
I'm always amazed by which app install ads perform the best for me. Often the top performer is the combination I would have least expected.
Spend some time creating different ad combinations and always run at least three per campaign, though I prefer to run more.
On top of testing different ads, you should also test different targeting strategies for your Facebook Ad Campaigns. Like the ads themselves, it's unlikely that you will create the perfect targeting strategy on the first attempt.
Take the time to tweak and test your targeting based on the data that you get from the reports. The more you can optimize your targeting, the cheaper those installs or engagements will become.
I like to start out with a small budget until I've done some testing and have optimized my ads to a point where I'm happy. After that I'll ramp up spending.
And there you have it. The five key components of a Facebook App Install Ad campaign that you can improve for significantly better results.
There's a lot to take in and try out, but remember not to get intimidated. You can always start small until you get confident. Campaigns can be run for just a few dollars per day, so why not start experimenting!
In case you're still a bit unsure, I've put together an email training series on the most common mistakes developers make when running Facebook ads for their apps, and how to avoid them.
It's completely free, just click here to start your training and make sure you avoid the most common Facebook Ad mistakes.
About the Author
Andrew Hubbard has been developing and publishing games for iOS and Android since 2012. After seeing success in the app stores, he continues to learn and grow with this rapidly changing industry. Organic downloads have become more scarce for indie developers and Andrew has developed a strong focus on paid user acquisition as a result. He shares information to help developers lower their cost per install, re-engage users, and improve their app's ROI on his blog, AppPublishersParadise.com.