[Editor's Note: Due to the popularity of this post and the ever-changing nature of the Apple App Store ranking algorithm (and those of Google Play), we've released a free 55-page eBook full of actionable steps to boost ratings and rank higher in both the App Store and Google Play. Enjoy!]

It's common knowledge at this point that ranking higher in the App Store is a key ingredient to accelerating your app business's growth. However, with more than 1,000 apps being launched every day, ranking highly is a daunting task. Smaller or independent developers lament the current state of affairs, sure that they can't hope to compete with companies who have large advertising budgets or pay-per-install campaigns. Fortunately, paying for installs is not the only way to climb up the rankings. Here are three key strategies to ranking higher that don't require a huge investment to implement.
Here's how you can compete with the big boys and not break the budget:
1. Engagement & Retention
Apple has been experimenting with the app store ranking algorithm and there have been rumors that increasing engagement and retention statistics will play a part in increasing your ranking directly. Regardless of these rumors,  improving your engagement and retention will still have an indirect effect on your ranking.
The obvious path to more engaged customers is to make an app that people love. The hard part is creating an app that people love, because it doesn't just happen on the first release. You need to discover what customers care about and iterate quickly. How do you do that? By engaging in conversations with your customers, soliciting feedback, and listening to what they have to say. Your early fans are an incredible resource for learning how to create an app that more and more people will love.
People who love using your app can't help but talk about it. Customers who use an app often and love it will share it with their friends. Word-of-mouth is the second largest driver for mobile app discovery. Face to face sharing is far more effective than a "like" or a tweet. Engage with your customers to learn what drives them back to your app and iterate from there.
2.  App Store Optimization
App store optimization is a powerful yet often overlooked weapon to rank higher as app store search is the number one discovery method for mobile apps. There are two important steps to ASO: optimizing your keywords and tracking your competitors. Using ASO to rank higher is a relatively simple process that requires time and patience instead of money.
The most important key performance indicator to track are your keywords. Apps that incorporate a keyword into their title rank on average 10% higher. Working keywords into your title and app description can make the largest immediate impact to ranking higher for specific search terms. Track your rankings for specific keywords over time and you'll begin to see which keywords are more effective for bringing in downloads.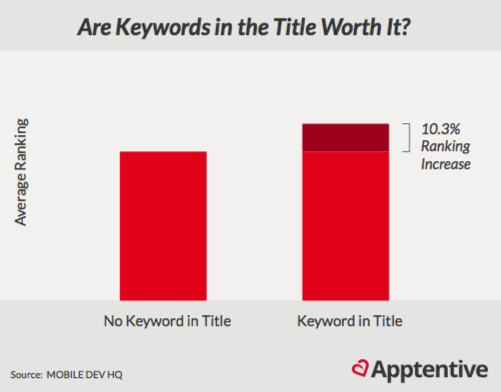 Tracking your competitors ranking for keywords can take more time than tracking your own, but understanding the keywords your competitors are placing an emphasis on will give you a competitive edge. Gathering intelligence on what keywords your competitors are using allows you to either try to rank higher than them on those keywords or choose to target other words altogether. Here's a more in depth post we wrote on ASO.
3. Improve and Increase Your Ratings & Reviews
Ratings & reviews affect your ranking and can influence the decision to download your app. Building an app that people love is HARD work, and your efforts should be acknowledged. You have an audience that may use your app everyday, loves it, but still never takes the time to give you a review. It's your job to go out there and proactively reach out and lead your customers to action. Sometimes all it takes to increase your ratings and reviews is a simple question asked in the right way and at the right time.
You're most likely missing out on a huge opportunity to both improve and increase your ratings & reviews. However, you're not alone in this struggle to get more ratings and reviews from your customers. Apps with customer bases of all sizes, even the big boys, experience this same problem. Download our customer story  to see how Urbanspoon reached 5 stars in the app store and increased their daily reviews by over 1,000%.
Learn how a leading retailer:
Moved up the Apple App Store rankings;
Boosted their App Store rating to five stars;
Decreased the flow of one-star reviews by 1500%;
Increased in-app purchases by 40%; and,
Bridged the gap between the in-store and in-app cutomer experience.