There will be an estimated 2.3 billion mobile app users worldwide in 2017. China leads the smartphone industry, with mobile users projected to grow from 563 million in 2016 to 675 million in 2019. The US contributes a mere 10 percent in this, with majority of the growth coming from China and India.
For mobile app developers, this translates to global app expansion; a great way to drive growth is by expanding into international markets. The advantages of marketing your app internationally include greater brand awareness, entry into lucrative markets, an upper edge over competitors, and the opportunity to be portrayed as a global brand.
From the period you develop your app to after it is launched, here are three important marketing strategies to help you gain entry into newer markets.
#1. Mobile content marketing
Content marketing hasn't been widely adopted in the mobile apps ecosystem as compared to its application in other digital spheres. The following stats prove that there's no arguing about this marketing strategy's effectiveness:
Aberdeen report shows the year on year growth in unique site traffic being 7.8 times higher for content marketing leaders as compared to followers. (19.7% vs 2.5%).
According to Demand Metric, content marketing costs 62 percent less than inbound marketing and generates three times more leads.
89 percent B2B marketers and 86 percent B2C marketers are using content marketing, according to Content Marketing Institute's 2017 Benchmarks, Budget, and Trends report.
Putting together these stats and owing to the fact that nearly 70 million US internet users use ad blockers, it is clear than content marketing is one surefire strategy for mobile app marketers to build awareness, create loyalty, and increase installs.
Let's understand its context in relation to mobile apps.
Four types of mobile app content
1. App Store listing
The three components of app store listing content are:
App description
App images
App videos
App Store Optimization, or ASO, helps to optimize these fields.
When someone stumbles upon your app store listing, chances are that they already have a need. They might have read about your mobile app while using your competitors' app and decided to try your app. Or they were browsing the app store. Clicking on your listing is an indication that they're interested to learn more about your offerings.
Once you know the visitor is already interested, which of the two options will appeal to them more?
Option A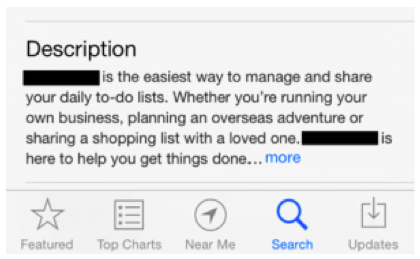 Option B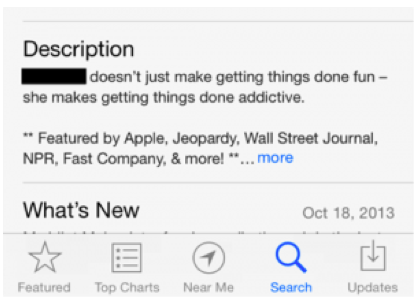 Option B is more enticing owing to the proof of authority and the compelling coy. This shows the importance of content. Use of more effective content in the app listing leads to more installs and better reviews.
2. Pre-launch content
Here's a staggering statistic: "Only 40 percent of mobile users search for apps in the app store." This means you have to go to your users and engage them with effective content.
The important components of a content marketing strategy for your app if you haven't launched it yet are:
Landing page
Teaser content
Articles or videos related to the app
Press releases
Email campaigns to keep the pre-launched subscribers updated
3. In-app content
Along with creating content outside of your app, give equal attention to create in-app content to increase your odds of user success.
Imagine you have a productivity app to help users take notes on-the-go. You might be offering different note-taking methods such as voice recording and text input. Additionally, you might allow annotation of notes already sorted.
If the new user has to figure out the app on their own, it might result in confusion. Content in the form of push notifications, in-app messaging, and onboarding tutorials can help new users get a hang of the program quickly to become a part of their routine.
Happy customers become brand ambassadors. They are more likely to recommend your app to their network and give positive reviews on the app store listing.
4. Authority-building content
Authority-building content includes social media posts, white papers, blogs, case studies, and guest posts. This content gains the trust of the user thereby builds relations with them.
A statistic which supports this is: 82 percent of customers feel more positive about a company after reading their custom content. This kind of content builds a positive brand sentiment necessary for app producers to stand out in the crowded app marketplace.
Different companies will require different kind of content at different intervals to influence the consumers' buying and engagement decisions.
#2. Localization
App localization means to translate the language elements of an app into another local language targeting a specific country. Facebook is available in 84 languages, Gmail in 58 languages, Twitter in 32 languages, and Pinterest can be accessed in 31 languages.
While localizing the app, take into consideration the country's laws and guidelines.
Importance of localization
There are a few important statistics driving the importance of app localization:
A study by Appia reports 86 percent of the localized app marketing campaigns to outperform the English language mobile marketing campaigns, both in conversions and click-through rates.
According to Distimo, launching your app to a foreign market can boost downloads by as much as 128 percent and the revenues by 26 percent for every country added by app localization.
According to a report Can't Read, Won't Buy, 75 percent of customers prefer purchasing products in their own language.
The following chart from Statista shows the most used languages on the internet as of 2016.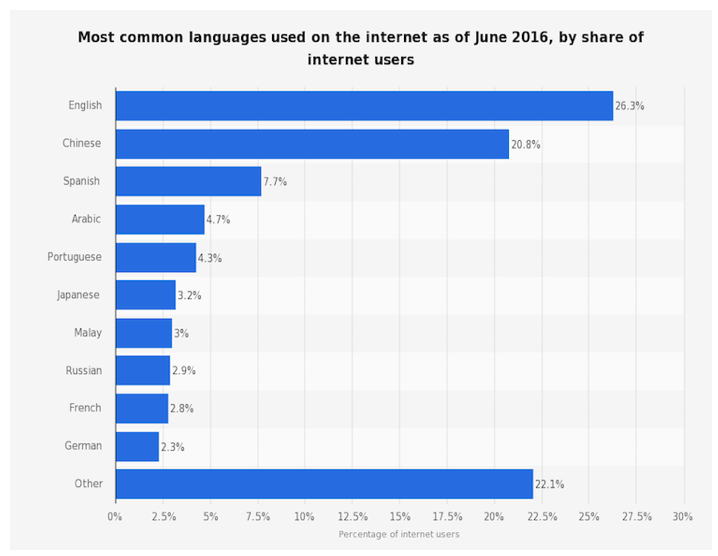 This means, taking your app to these countries will help your app build sustainable traction.
How to figure out which country to target
Ideally, countries with a high percentage of smartphone penetration and app usage and the ones growing at a quick pace should be your choice.
To further narrow down the search, look at the category of your app. If your app falls in the news category, target countries whose users have a high consumption of news through smartphones.
The degree of localization is directly proportional to the resources available. You can start with translating your app's keywords and app store description with Google Translate, which can help translate keywords for ASO, or localize your app with app localizers and translators such as Translate by Humans, which professionally localizes every aspect of your app, from the icons to the app content and offer post translation testing.
Localization challenges
Errors in localization is among the top reasons for an app to get rejected from the App Store.
Imagine what impression you would make on a user if 300 YEN looks like $300 for an in-app purchase. Tools such as Invariant Culture and NSNumberFormatter convert between numeric values and their textual representations.
Additionally, the text becomes longer or shorter in different languages. German, French, and Spanish expand by 20 percent as compared to English. Korean, Dannish, and Swedish contract by 20 percent. Further Arabic and Hebrew are written in right to left scripts. Consider the design modifications resulting from localization.
Also, a few symbols which work in one country might not be acceptable in another country. So look into the localization of your app icon.
Pampers has renamed itself to "bang bao shi" in China. This means "helps make baby comfortable." Other companies such as BMW, Coca Cola, and Walch Soap have rebranded their names in the Chinese market.
Elements such as currency for in-app purchases, dates for push notifications, and units of measurement are normally localized. The degree of localization required in your app will depend on the kind of app you're building.
#3. Influencer marketing
Influencer marketing is overtaking traditional advertising because it allows brands to connect with the audience in an authentic way. Marketers are realizing the potential of influencers with a large following on social media.
Here are four points to convince you to make influencer marketing a part of your app marketing strategy.
1. Traditional ads are losing their effectiveness
26 percent of desktop users and 15 percent of mobile consumers are using blockers to remove ads from their publishers' websites. So even if you come up with a great ad experience, if the users enable ad blockers, they may never come across your offers.
2. It's native advertising
92 percent of consumers trust recommendations from individuals even if they don't know them, compared to brands. This shows that native advertising performs better than traditional ads. By combining an attractive offer with a relevant influencer, the reach, engagement rates as well as the end results would skyrocket.
3. Influence marketing generates high ROI
A study showed campaigns to earn $6.85 per every $1 spent on influencer marketing. Further, influencer marketing generates ROI 11 times greater than the traditional digital marketing campaigns.
This doesn't imply that influencer marketing has 100 percent success rate for every single business. However, the data indicates that every brand should explore influencer marketing.
4. Better audience targeting
An influencer places your offering in front of their audience, like on social media where the audience is most active. With 74 percent of consumers using social media to make purchasing decisions, combining the right offer and influencer would be rewarding for your app.
Final thoughts
Don't fall into the trap of assuming your app will become the next Snapchat as long as you build a solid product. A well thought-out marketing strategy contributes in making an app successful.
Focus on both the product development and marketing to build a profitable app venture.