For many customers, their first interaction with a brand happens on a mobile device, so creating a stand-out mobile customer experience is key. We turn to our phones first in many circumstances, especially when we're out and about. And even when we're at home, we are often looking at our phones while watching TV, cooking dinner, working out, etc.
The way in which customers interact with brands on their phones is different from how they interact with them in person or even on the computer. But that doesn't mean the experience should be deprioritized. In fact, we're here to argue that the mobile customer experience should be a priority for brands. Adopting a mobile-first approach will help you gain market share, understand your customers better, and ultimately drive more revenue for your business.
The two keys to a better mobile customer experience
Key #1: Personalization
Personalizing engagements with your customers is a key way to give your customers a better experience on mobile and stand out among your competitors. Customers have become accustomed to using their mobile devices in a conversational, personalized way – and interactions with brands are no different.
Personalizing in-app experiences center on delivering the right message, to the right person, at the right place, and at the right time within the app. Let break that down: 
Right message: Is your message relevant and helpful?
Right person: Are the right customers seeing your message?
Right place: Are you meeting customers where they're at?
Right time: Are you communicating at a time that's convenient and makes sense in the customer journey?

Let's say you are struggling with product roadmap prioritization. Your product team has limited development resources and wants to isolate product features that will have the biggest impact on customer experience. 
So, you deploy an in-app survey that asks mobile customers what they want to see added to your app.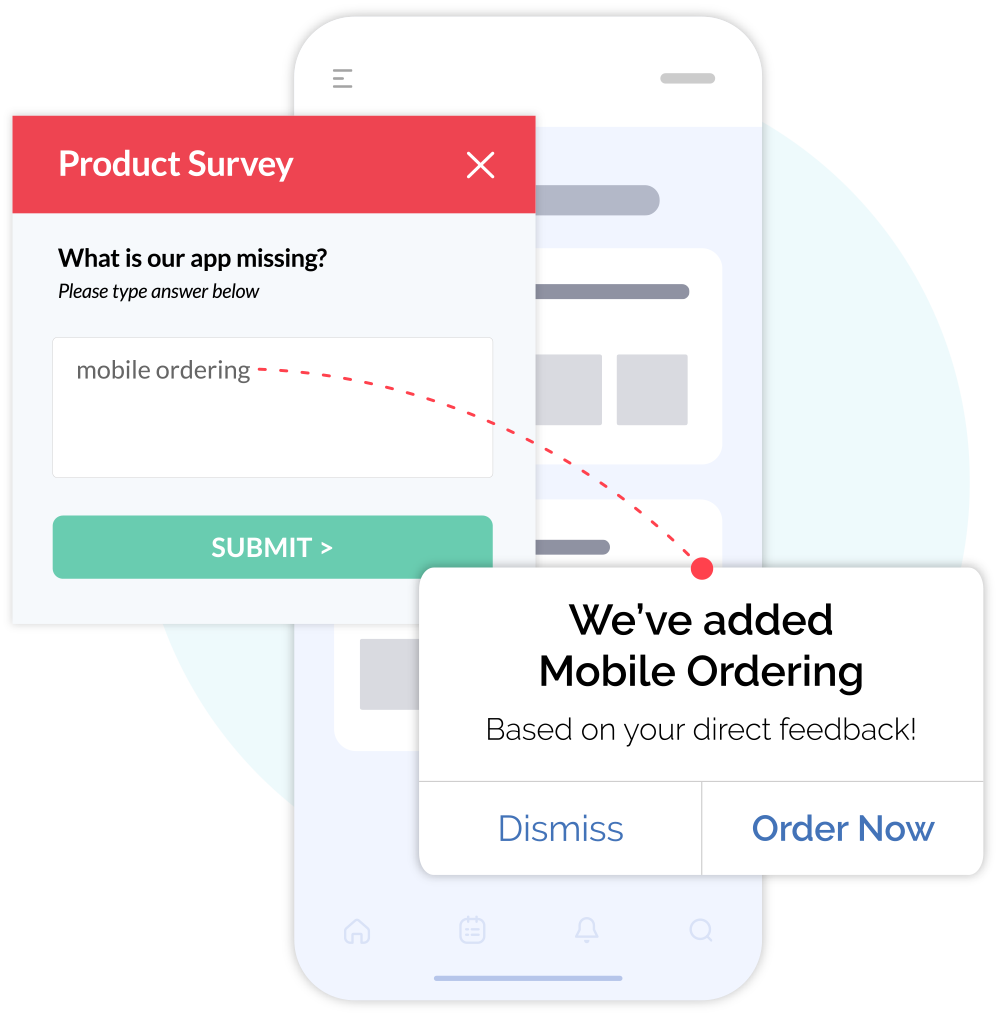 After receiving enough feedback, you learn that an overwhelming majority of customers requested mobile ordering. Your development team then prioritizes and  implements this feature. 
After implementation, you deploy a Note to the customer's that requested mobile ordering. Immediately after opening the app, this Note informs them of the update and provides a link to a 20 percent off coupon for their first mobile order. 
How well does this example deliver the right message, to the right person, at the right place, and at the right time within the app? 
Right message: Yes, this message lets customers know that their voice was heard and the feature they requested is now available. 

Right person: Absolutely, this message is hyper-targeted to specific customers that requested mobile ordering. 

Right place: Yep, customers initially requested this feature on mobile and they are being informed through the same channel. Mobile customers are also prompted with a discount code to use directly within their in-app experience. 

Right time: 100 percent, this Note was deployed at the start of the customer's mobile experience, so as to not disrupt customers in the middle of an in-app action. 
Personalization to this degree is something few brands do. So, with the right mobile customer feedback solution you can set yourself apart from the competition and create an attractive mobile experience for new and existing customers.
Key #2: Proactive listening and communication
In 2021, 60 percent of consumers who saw an in-app interaction (that means some sort of communication from a brand such as a rating prompt, survey, Note, etc.) in January were seen again in December. This proves the value in proactively communicating and listening to mobile customers.
Just as customers demand personalization, they also expect brands to ask for feedback directly. With mobile devices in our pockets at all times, it's the easiest way for brands to build a two-way communication channel with customers directly. In fact, fifty-one percent of consumers say they expect companies to ask for their feedback, and that number is even higher for consumers who prefer to leave feedback in-app (64%). App customers are very willing to give feedback; 98 percent said they're likely to do so when asked.
Most brands today might think they're talking to the majority of their customers, but in reality, they only hear from less than one percent of their customer base. That means about 99 percent of their customers are in the "silent majority" and their voices aren't being heard. Traditional feedback channels like emailing an NPS survey just won't cut it anymore.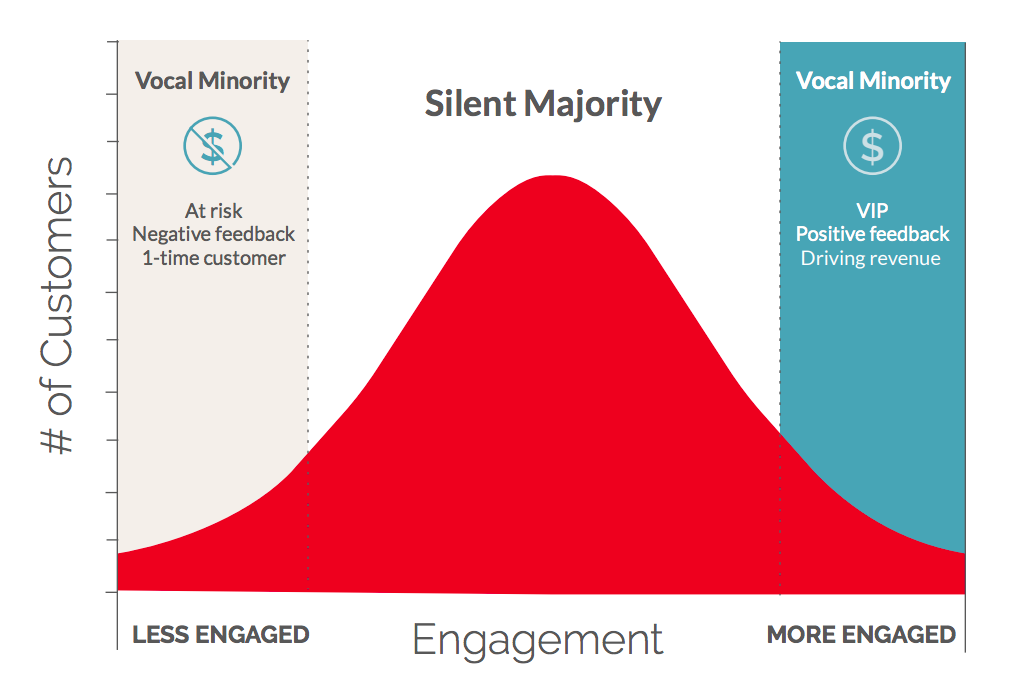 If you're not proactively asking for feedback, you're leaving an opportunity on the table to keep your finger on the pulse of your app customers, improve customer happiness, and increase your bottom line.
Now, more than ever, your customers want to be heard. They're itching to give you feedback. Do you have the right tools to capture that voice? If you don't, you need to get those in place – and fast.
Identifying gaps in your mobile experience
Mobile customers are more impatient than ever before in today's landscape, and an app download does not necessarily mean business for your brand. Customer experience needs to be constantly monitored and regularly evolving to meet customer needs and expectations 
But how can you measure the effectiveness of your app's customer experience?
1. Acquire In-app feedback
In-app feedback allows you to better understand the performance and experience of your app. Product feedback is the ideal way to hear from specific customers and understand their needs before they move to one of your competitors. Proactively gathering feedback allows you to quickly identify and solve their pain points.
It also helps you acquire insights into overall customer experience and larger brand perception. Many times, customers use in-app feedback channels to provide feedback not just on the app itself, but other experiences they've had with your brand (for example, their experience in-store when they picked up the coffee they ordered through the app). 
This deeper understanding allows you to connect the dots between your different points of contact along the customer journey, providing a more seamless and cohesive customer experience.
2. Monitor ratings and reviews
App store reviews and ratings are obviously one of the most influential metrics you can use to measure customer experience. When your customers react through rating your app and leaving reviews, it quickly allows developers to understand the customer experience at a deeper level.
If your ratings drop or you are getting unfavorable reviews, do your best to respond to the issue and solve them immediately. The earlier you fix the problem and communicate the solution to customers, the better your relationship can become.
3. Track customer sentiment
Tracking customer sentiment helps you understand, among many things, overall customer satisfaction with the quality of your product experience. 
Gaining insight into customer sentiment can be winning game plan for your mobile marketing and product strategy. The more you know about a customer's current emotional state, the more you can tailor your mobile products and marketing campaigns to provide an engaging, helpful experience and adjust your product roadmap to meet customer needs faster.
At Alchemer Mobile (formerly Apptentive), we have a tool called Fan Signals® that helps our customers measure and act on shifts in sentiment. Fan Signals enable customer segmentation tied to categories of emotion to help you predict churn, boost revenue, and retain customers throughout their mobile journey.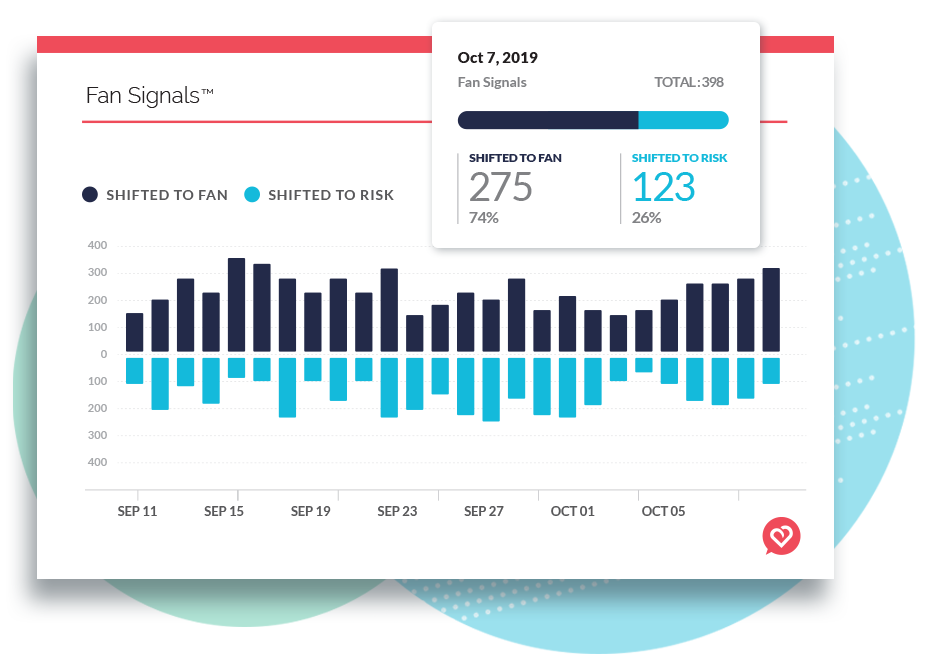 How to improve your mobile customer experience
Here are three tips to help reshape your mobile customer experience around customer centricity, and ultimately, to help you drive lasting customer loyalty:
#1 Turn customer centricity into action
Companies hoping to stay relevant and competitive through mobile channels need to ruthlessly incorporate the customer into their decisions. This requires changing customer centricity from a theoretical discussion into an action. The only way to get your team to take action on customer centricity is to make sure they have access to information that allows them to make informed decisions, not guesses. 
The list of sources to get information on the customer is long, and includes customer surveys, ratings and reviews, past purchasing behavior, favorited items, etc. But to make the best decisions, your team should have explicit data that has come directly from customers' mouths (surveys, ratings and reviews, etc.) as well as from implicit data (favorited items, past purchasing behavior, etc.). 
The point is, your team needs data points in order to make customer-centric decisions. Guessing what the customer wants and acting on it is not customer-centric behavior. Guessing does a disservice to both your team and your customers by wasting everyone's time prioritizing the wrong tasks and increasing the potential for a disjointed customer experience.
#2 Leverage happy customers and retarget unhappy ones
If you're actively tracking customer sentiment, you can easily identify your fans and at-risk customers. Both of these cohorts can be harnessed in different ways to improve mobile customer experience. 
Your fans are the customers you can test new features on, collect feedback, and iterate on the product before releasing to everyone. We make it easy to identify your fans with our Love Dialog®, which boasts a 91 percent response rate. 
Once you know who your fans are, you can collect invaluable feedback on specific moments in their customer journey using micro-surveys, send them reminders to use their soon-to expire coupons with Notes, and more. Your fans are your most valuable customers, so knowing who they are is key. From there, you can ensure they know you care about them as a customer, keep them invested in your brand, and create innovative new offerings that will make their experience even better.
3. Use customer feedback to prioritize your product roadmap
Using customer feedback to prioritize your product roadmap might seem like an obvious strategy, but very few companies actually do it. Your customers expect you to ask them for feedback, so there is a massive opportunity to essentially have an insurance policy on your roadmap, and to ultimately improve their experience.
We go much more in-depth on this topic in this recent webinar with two amazing product managers – save this to watch later!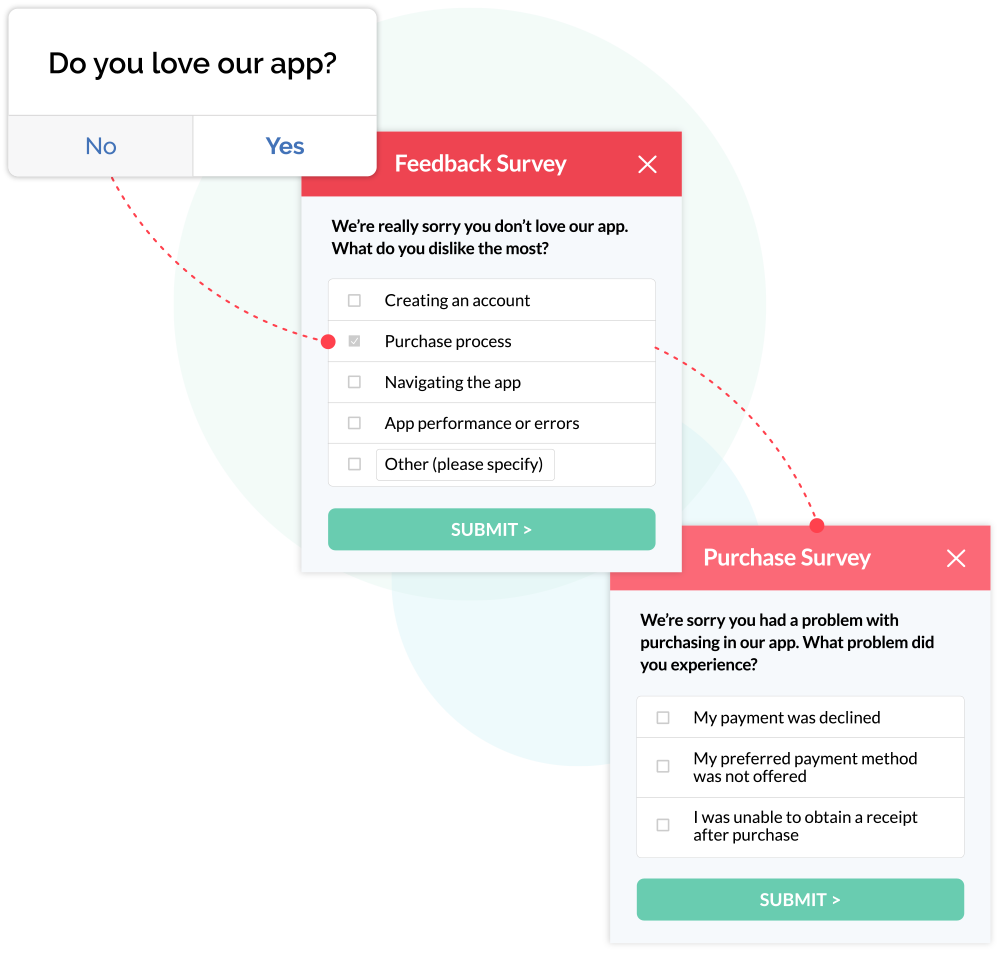 Continue reading
In this post, we only scratched the surface with information on improving mobile customer experiences. Download The Ultimate Guide for Improving Mobile Customer Experience to identify gaps in your mobile experience and read about tangible actions that you can take to improve mobile customer experience.
This guide is your ultimate resource to:
Identify gaps in your current experience
Immediately – and continuously – improve the app experience