New collaboration opportunities across departments will help improve CX in 2023
2022 was a difficult year for customer experience (CX). Forrester reports that "US companies have lost the vital focus on customers that they gained at the beginning of the pandemic in 2020." And consumers felt it.
But there is little need for CX doom and gloom. In fact, we predict that 2023 will be a boom year for CX with companies coming together in new ways to solve problems. We predict that software will make the CX job easier no matter which department has ultimate responsibility.
We are confident about these predictions because we are big believers in a trend that we share with Alchemer customers and that we've heard discussed by CX industry thought leaders: collaboration and data sharing across departments will be key to CX success. We believe that owners of customer experience in different departments will initiate conversations to build collaboration and data sharing. These department owners will find ways to share CX data and jointly problem-solve to truly diagnose factors contributing to positive and negative customer experiences throughout a customer's journey.
We need to improve on 2022
While true that CX reached new heights in 2021, 2022 has seen CX quality scores fall back to pre-pandemic levels in the U.S. Forrester reports that the average CX Index score declined "across all 13 verticals that we study…from an all-time high of 72 in 2021 to 71.3 in 2022 on our 100-point scale."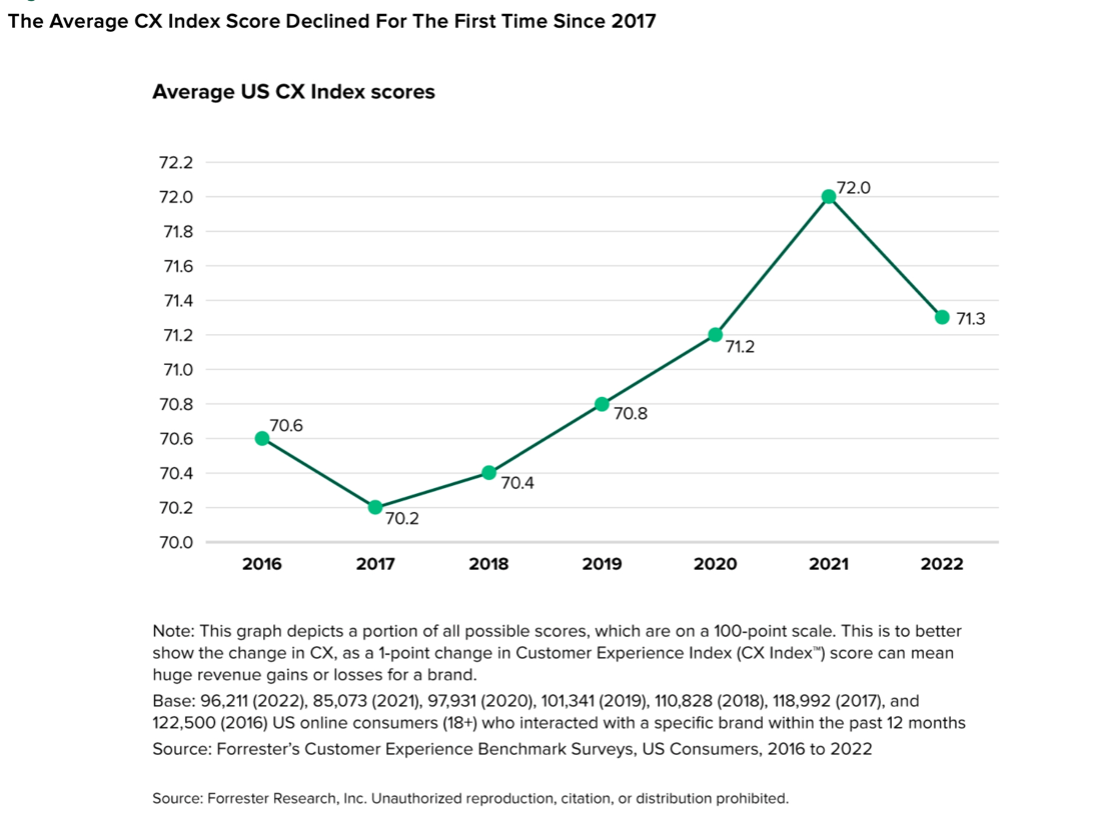 These numbers may sound small, but each 1-point improvement in a company's CX Index score can be worth billions of dollars in revenue or assets on average. For example, one point could mean $22.5B more in assets under management for the average investment firm to $1.2B in revenue for the average mass-market auto manufacturer. Little changes count for a lot, and we can do better than in 2022.
We need to collaborate in 2023
Some large companies have centralized ownership of their customer experience programs within a single team or department. However, even if ownership is centralized with a CX team, that team still needs to collaborate regularly with other departments.
More commonly, many companies distribute CX responsibilities among customer-facing disciplines like marketing, customer service, sales, and more. This distributed responsibility makes it difficult to collaborate, but that's the challenge for companies in 2023. CX professionals need to figure out how to work with different teams for the shared end goal of improving customers experiences, which is good for business.
Whether a CX department, or a shared-responsibility model, companies that value CX can and will thrive this coming year to the benefit of their company's bottom line.
Software needs to facilitate collaboration
CX leaders — no matter the department — will need a CX platform that facilitates collaboration. Here are five capabilities your CX platform needs to offer in 2023 in order to collaborate best with other departments.
Behind-the-scenes automation: Reduce manual labor and enhance a personalized customer experience.
Integrations: Push or pull data to and from the business systems that each department uses every day.
Loop Closure: Ensure that customer feedback is responded to in a timely and personal manner by routing data to different departments that are empowered to follow-up on customer feedback (thus closing the loop).
Business Metrics: To facilitate collaboration and success tracking, push feedback data into the business systems where key business metrics are tracked.
Deep Analysis: CX teams will need to dig deeper into customer feedback to discover what can be improved, beyond just acknowledging customer sentiment and moving into gathering real insights.
Whichever platform they choose to manage their CX program, CX leaders will want to balance back-end automation so they can more easily personalize the experiences delivered on the front-end. Integrations will pull or push data into the business systems they already use. And pushing that data into BI systems will facilitate the correlation of feedback data with key business metrics. And that platform will nudge departments and people to close the loop on customer feedback, ensuring that customers receive a personal response.
One story of collaboration
Different departments collaborating on CX projects today is not a myth. Malwarebytes is a shining example of collaboration done right. Executives there created an NPS Council, a collective of Malwarebytes executives in various departments like customer marketing, HR, customer service, and user experience, dedicated to responding quickly to customer feedback.
Composed of representatives from various customer-focused departments, the NPS Council is a successful means to solve complex challenges requiring multi-faceted, multi-disciplinary responses.
Malwarebytes uses Alchemer to send the first NPS survey 28 days after a customer signs, and then every six months from purchase. The NPS Council reports back on a rolling basis in order to identify trends and assign fixes to various challenges. And once a quarter, they publish overarching trend documents with their insights to executives.
Software underpins this collaboration, but the collaboration only truly works because different team leads pull together to solve CX challenges jointly.
Collaboration will drive successful CX outcomes in 2023
Despite the downturn this year, we predict that 2023 will be a great year for CX. Software supports various organizational methods — single CX teams or disparate groups working throughout the organization.
But collaboration will be the key to success this year. Department heads will need to initiate that collaboration and data sharing. Groups will need to work together to truly diagnose customer issues and resolve them. In short, CX and data silos can only hurt your CX in 2023.
But in those companies that value CX and if those CX groups can prove their ROI, Forrester predicts that one in ten CX programs will be stronger than ever at the end of 2023. In fact, the leaders of CX teams at companies that "embrace great CX as part of their brand identity" will "gain direct control of teams to which they previously had only dotted-line connections — like customer success or the contact center — and earn larger budgets for personnel, technology, and project work."
The challenge for the coming year is figuring out how to collaborate and really pull it off. An NPS Council is a great example of different departments coming together for a shared CX goal. So is taking the time to review your CX program and develop a process for closing the loop on customer feedback. What will your company do to make 2023 your best CX year ever? How are you planning to use software to collaborate even more effectively?
[Read more about the Malwarebytes NPS Council.]